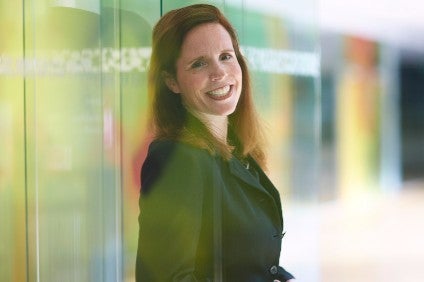 Arla Foods, the European dairy group, has said it expects its annual sales to grow by around EUR1bn (US$1.06bn) in 2017 but driven in the main by price increases.
In 2016, Arla's revenue fell by almost 7% in part due to lower sales prices amid the high milk volumes seen in Europe in the first half of the year.
Speaking to just-food, Arla CFO Natalie Knight said there had been an improvement in prices in the later part of 2016, which the Lurpak butter and Castello cheese maker expects to help grow its revenues this year.
"The expectations are, as we look forward, that growth will come back to the market and, I think especially now as we're seeing price improvements, there's a really nice trend that supports growth as we move forward," Knight said.
However, the circa EUR1bn jump in revenue that Arla has forecast will "mainly" come from price increases, Knight acknowledged.
"It will be mainly by prices. We'll definitely see volume improvement in our international businesses. That's something that we'll want to continue, to keep with the momentum that's going in those markets. When we look at Europe, it will be a mixed bag but prices will be the main driver," she said.
Knight, who joined Arla at the start of 2016 from sportswear giant adidas, said the Lurpak butter owner "definitely expected" to see its moves to rise prices take hold at retail level and insisted she had seen signs, especially in the UK, that consumers were willing to pay more for dairy products. "Over the last year, you've found a lot of sympathy from consumers in terms of prices that were at very low levels for the last two-and-a-half years, that they were unsustainably low for farmers," Knight argued. "People believe in the quality of the product. As we continue to grow our brands and the value and quality of what we're producing, it makes it easier for consumers to see a reason to buy and a reason to pay higher prices."
Asked how Arla sees consumer confidence developing in the UK – its largest market – this year amid the prospect of rising inflation, Knight said she "didn't want to claim to be an economist" but added: "2016 was a year when we had a lot of nice momentum and we expect that to continue. We're seeing the way our ads are hitting is really picking up, we had a very, very strong Christmas season in terms of our brand. At the moment, our expectations remain quite positive for that market."
Arla's 2016 results, published yesterday, included a reduction in the co-op's debt. Knight said Arla the fall in debt meant it was "certainly possible" the company could look to make acquisitions but pointed to the detail of its "2020 strategy", unveiled in December 2015.
"What I would focus on was one of the things we announced as part of our 2020 strategy was this isn't a time when we're out looking for lots of mergers that you saw in tha last five years of Arla. We're really looking for growth in new channels, new categories and new distribution. If there were opportunities there, that would be more where you would see them. But I would also focus on you saw that we've increased our capex by 50% so we're looking always first at what we can do organically in terms of utilising the strong momentum in our international markets and as we value up in the brand areas."