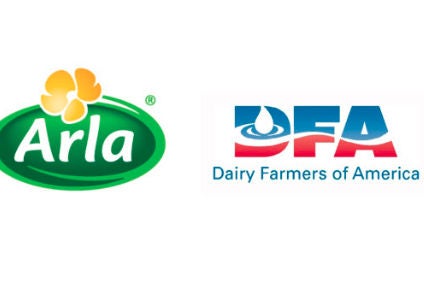 Arla Foods has announced it is entering into a joint venture with Dairy Farmers of America for the production of cheddar cheese.
The tie-up will see the construction of a dairy plant in the US for cheddar cheese production.
The joint investment is US$58m of which Arla covers 20%, or $11.6m. The joint venture will be 70% owned by DFA, who also holds the management role, 20% by Arla and 10% by the eight farmers who supply the milk. Thirty people are expected to be employed at the facility.
A statement from Arla said the venture would see the two farmer-owned cooperatives "explore opportunities to build premium-quality standards in the cheddar category, in the world's biggest cheese market".
It pointed out "very few brands" currently on offer in the US produce cheddar without growth hormones or artificial ingredients. The US market has a restricted import quota system for cheddar, which is why Arla's possibilities for importing European cheddar are limited.
"Together with Dairy Farmers of America and eight of their farmers, who will supply the raw milk, we will explore the opportunities in building premium quality standards into the cheddar category through the Arla brand. Adding cheddar to our US portfolio will make us more attractive to the retailers and help increase the sales of our European products made from owner milk," said Peder Tuborgh, CEO of Arla Foods.
"We are pleased to be entering into this partnership with Arla. Arla and DFA share the same passion for providing the highest quality products to consumers and are committed to sourcing these products from dairy farmers who employ sustainable and transparent farm practices," said Rick Smith, president and CEO of DFA.
The construction of the site will begin this autumn. Production is expected to start in autumn 2017.