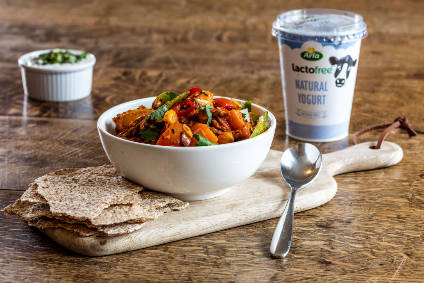 Arla Foods has unveiled a new addition to its portfolio of its UK lactose-free dairy range – Arla Lactofree Natural Yogurt.
The European dairy giant said the new product is part of its efforts to target the 15% of the UK population who are thought to be lactose intolerant. Arla said the yogurt, available in 400g pots, started to be rolled out to retailers on 27 June and will join the group's growing Lactofree range in the dairy aisles.
Arla Lactofree brand manager Frida Kjellberg said: "Our ambition is to ensure that wherever there is a dairy option, there is a Lactofree alternative. This launch is another step towards fulfilling our goal. We've seen a huge demand for a Lactofree natural yogurt from our consumers and we are delighted to add it to our range."
The Arla Lactofree range includes skimmed, semi-skimmed and whole ESL and UHT milk, mild and mature cheddar, soft white cheese, fruit yogurts, UHT milk portion packs, cream and spreadable.
According to Arla, recent data from Nielsen shows Arla Lactofree is growing strongly at +22% volume growth and +23% value growth year on year.
Last month, Arla said it was expanding the range of protein-heavy products it sells in the UK, with a move into the cheese category by launching Arla Protein Cottage Cheese. Per 165 serving, the cheese has 2.5g of fat, of which 1.8g saturates. It has 6.9g of carbohydrates and 5.5g of sugars.