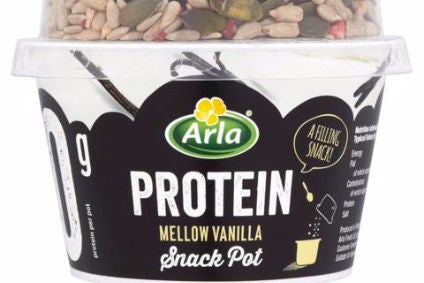 Arla Foods is adding to its Arla Protein yoghurt range in the UK with the launch of Arla Snack Pots to capitalise on the trend for "eating healthily on the go".
Following its launch of the quark-based Arla Protein in the UK last year, the dairy giant is expanding the range to include 200g yoghurt pots with separate tops filled with nuts and seeds.
The Arla Protein Snack Pots have no added sugar and contain 20g of protein and are available in two variants: Warm Ginger with a topping of roasted cashew nuts, freeze-dried apple and carrot; and Mellow Vanilla, topped with sunflower and pumpkin seeds, freeze-dried apples and raspberries.
Louise Hagger, brand manager for Arla Foods in the UK, said: "Following the success of Arla Protein in 2015 we will be extending the range in 2016 with exciting new product development that delivers unique products for the active consumer and Arla Protein Snack Pots is our first, exciting addition.
"The protein trend is really taking off in the UK – it's no longer only the serious gym-goer that is looking for more protein in their diet, but it's now those that are active in different ways – whether that's playing sports, cycling, swimming or yoga, for example. Arla Protein Snack Pots are exactly what the active consumer is looking for – high protein, great tasting and in an easy eat on-the-go format."
Arla Protein Snack Pots are available in UK supermarkets in 200g pots with an RRP of GBP1.55 (US$2.21).