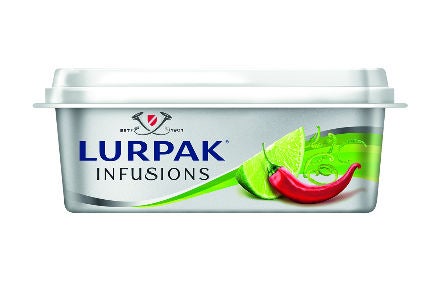 Arla Foods has launched Lurpak Spreadable Infusions, a range of flavoured spreadables under the Lurpak brand, in the UK.
The new range, to be rolled out from May, comprises three flavours combinations: Chilli & Lime, Smoked Chipotle and Sea Salt & Pink Peppercorn.
The launch is to be supported by a GBP2m (US$2.9m) marketing campaign aimed at encouraging consumers to re-evaluate their "daily bread occasions". The campaign will include print, PR, digital and social media elements, with experiential activity planned later in the summer.
"Lurpak Spreadable Infusions taps into the trend of actively seeking out bold and adventurous new flavours, allowing consumers to spread flavour to enhance the taste and texture of breads of the world," said Lurpak brand manager Jordan O'Farrell.
O'Farrell said the new range will offer incremental purchase opportunities for the Lurpak brand and would be "especially significant" for the lunch occasion.
Each variant has a recommended retail price of GBP1.25 for a 115g tub.