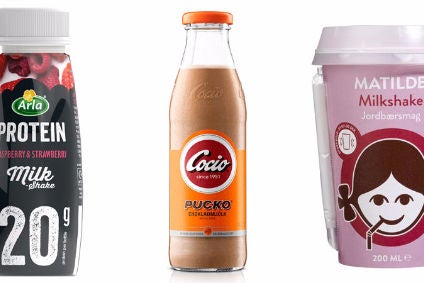 Arla Foods, the European dairy co-operative, has set its sights on tripling sales from drinks that sit outside what the company called "standard white milk".
The business generated EUR230m in sales from "milk-based beverages" last year and wants that to grow three-fold by 2020.
Arla said the size of the market is worth EUR100bn worldwide, which, while the same size of the market for standard white milk, is "growing much faster, especially outside Europe".
"By addressing the beverage market more strategically, we can double the size of our playing field for liquid milk products and capture significant growth opportunities for Arla," Hanne Søndergaard, the company's executive vice president for global marketing and innovation, said. "Our milk should not only be enjoyed from litre-sized packages bought in supermarkets, it should also be available as a tasty beverage on the go. We will expand our portfolio to include products that will nourish you, fuel you or refresh you – whenever and wherever you need it. This will create new sales opportunities for us in places such as convenience stores, petrol and train stations, gyms, workplaces, cafes, bars etc., where we are hardly even present today."
Under Arla's 2020 "ambition" for milk-based drinks, the company wants to be "the leading provider of milk-based beverage in northern Europe and one of the leading European players in Asia, the Middle East and northern Africa". It has earmarked the UK, the UAE and Singapore as test markets to develop "a winning model for distribution, sales and marketing" that can be rolled out in nearby markets.
Arla's range of milk-based drinks include Arla Protein, which is on sale in the UK. It also manufactures Starbucks chilled lattes under licence.
The goal for sales from milk-based drinks is part of Arla's wider strategy to expand the business by 2020.
Arla has identified eight product categories on which it will concentrate its innovation: butters and spreads; spreadable cheese; speciality cheese; milk-based beverages; milk and milk powder; and yoghurt, mozzarella and ingredients. Growth in these categories will be pursued via the company's "global brands" Arla, Lurpak and Castello .
On Friday, Arla touted the strength of its branded products, pointing to a 6% rise in sales from that part of its portfolio, as it announced a set of half-year results that showed its total revenue fell in the first six months of 2016.