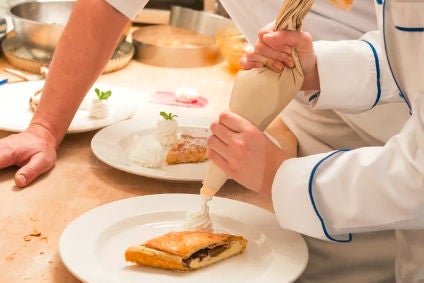 Arla Foods is launching a line of "clean label" dairy-based ingredients for the foodservice sector.
Arla Food Ingredients, the group's foodservice unit, is introducing a number of products targeting restaurants and catering businesses under its "goodness of dairy" campaign. Products include cake topping, cooking cream, bake-stable cream cheese and cheesecake cream cheese. Produced with dairy proteins these products are "much higher" in protein and "significantly lower in fat, calories and carbohydrates" than standard alternatives.
The European dairy group said the ready-made cooking ingredients will make it easier for food companies to develop and supply foodservice products that are "natural, healthy, convenient and stable". The company stressed these are important characteristics for consumers in the foodservice sector as well as the packaged foods market.
"Global foodservice sales are forecast to rise by 17% between 2015 and 2020," Arla said. "Growth in this market presents food companies with an excellent opportunity to expand their portfolio to include high-quality products that will appeal to foodservice businesses all over the world.
Torben Jenson, category and application manager at Arla Foods Ingredients, added: "These cooking solutions will enable our customers to widen their product offering and take advantage of the great opportunity that foodservice offers. Our new concepts are healthy, convenient and clean-label, which means they are completely on-trend. They can be supplied as they are, or tailored to meet specific requirements, unlocking a world of new opportunities."