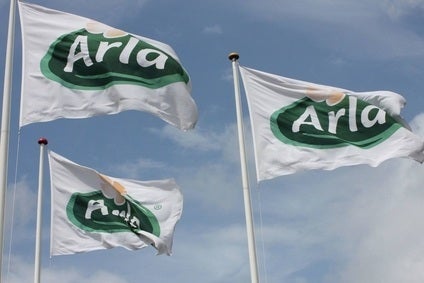 Arla Foods has launched an Icelandic-style yoghurt in the UK as part of its moves to expand into more parts of the dairy industry in the country.
The European dairy co-operative has secured listings for the fermented Icelandic-style yoghurt skyr – sold under the Arla brand – in Asda. It said other UK multiples would follow in May. Arla already sells the yoghurt in Denmark and Sweden.
In January, Arla, already one of the UK's two largest liquid milk suppliers and owner of Castello cheese and Lurpak butter among other brands, said it would launch a high-protein, quark-based product in the country.
Stuart Ibberson, category director for Arla's UK arm, said: "This is the second big new product launch that we've brought to the UK market under the Arla name. Entering the yoghurt category is enabling us to strengthen our position as the leading dairy company in the UK and customers and consumers can look forward to more big product news coming from Arla soon."
Arla Skyr is available in 450g pots in three flavours: Simply Natural; Mixed with Strawberry; and Mixed with Honey. The company has also launched five lines in 150g pots, including Apple & Lingonberry and Nordic Mixed Berries lines. The 450g pots are priced at GBP1.69 (US$2.51), with the 150g yoghurts on sale at GBP0.85p.