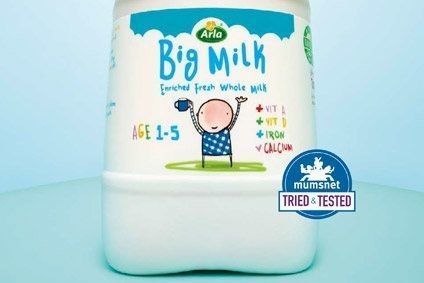 Arla Foods is launching Big Milk, a "nutrient-enriched" fresh milk targeted at children.
The product has been developed to meet the needs of children, aged one- to five-years, the dairy giant said. The filtered milk contains calcium, vitamin D, iron and vitamin A.
Stuart Ibberson, category director for Arla in the UK, said: "This is a truly innovative fresh milk product and we developed it after identifying a gap in the market to support parents making the switch to fresh cows' milk, as well as working with a range of experts. Being owned by farmers, it's also important that we make the most from their milk."
Arla Big Milk is retailing at UK multiples with an RSP of GBP2.25 (US$3.36). Its launch will be supported with an initial GBP2m marketing campaign.
The co-operative has also revealed plans to follow the launch of its Arla Protein yoghurt in the UK with a protein-heavy dairy drink.