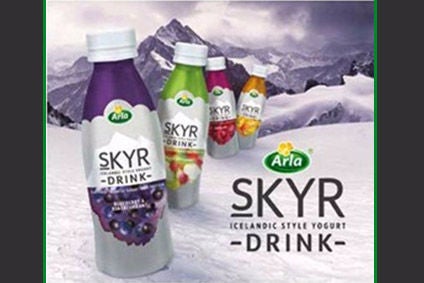 Arla Foods has launched a drinkable variant of its Skyr yoghurt in the UK.
The new drinks are available in two flavours: mango and passionfruit or blueberry and blackcurrant.
Arla said they have been designed for consumers that "are increasingly enjoying food on-the-go, and also in line with the trend for eating breakfast in the office, as opposed to in the home".
Sam Dolan, senior brand manager at Arla Foods, added: "Taking this unique product into another category is really exciting – we know that consumers are increasingly busy and are looking for delicious, yet healthy choices on-the-go, which is where Arla Skyr drinking yoghurts really deliver. We anticipate that people who love the yoghurts will also buy the drinks, but we're also hoping to attract new consumers."
The range is available at Asda with an RSP of GBP1.50 (US$2.13) for a 350ml bottle.
The European dairy giant launched its Arla Skyr yoghurts in the UK last year. The yoghurts had, according to IRI , generated sales of just over GBP8m by 30 January this year.
The low-fat, high-protein skyr style of yoghurt originated in Norway and was taken to Iceland over a 1,000 years ago, although it has become a product more linked to the island nation.
The UK is the fourth market in which the Denmark-based Arla launched its version of the yoghurt. It also sells Arla Skyr yoghurts in Denmark, Germany and the Netherlands. Arla had been offering the yoghurt in Finland but, after a trademark challenge from Icelandic co-operative MS Iceland Dairies, was told to stop selling the product under the name Skyr.
Last month, MS Iceland Dairies launched its own Skyr yoghurt in the UK. MS Iceland Dairies sells its Skyr across Scandinavia. Under UK trademark regulations, MS Iceland Dairies and Arla can both use the Skyr name in the country.
Click here for an interview, published last month, with Jón Axel Pétursson, senior vice president for sales and marketing at MS Iceland Dairies, on the company's plans for the UK.