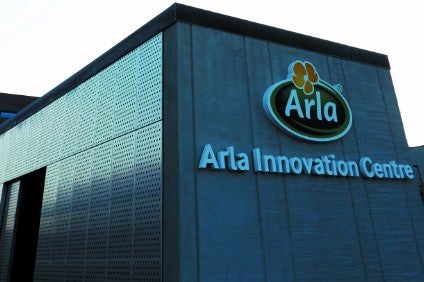 Arla Foods, the Denmark-based dairy giant, has followed the likes of Danone and Lactalis into the growing market for alternatives to dairy.
The co-operative, home to brands including Castello cheese and Lurpak butter, is launching a range of oat-based drinks.
Marketed under a new brand, Jörd, the beverages, to be sold chilled, will initially be available in Denmark, Sweden and the UK. Arla said it expects to launch the products in other European markets but did not give a timetable.
Hanne Sonnegard, Arla's executive vice president for global marketing and innovation, said: "More and more European consumers are looking towards plant-based products. And we know that consumers are enjoying dairy and plant-based drinks side by side. We aim to develop the category with a natural, Nordic range that fits into the everyday life of the European consumers and we see this as an exciting business opportunity."
The new range comprises Jörd Oat, Jörd Barley – which Arla said has "a delicate sweetness from barley" – and Jörd Hemp, which contains organic hemp.
The drinks, made at Arla's factory in the Danish town of Esbjerg, Denmark, "contain up to 50% more oat compared to competing products", the co-op said, without specifying the products.
Arla plans to "launch a whole range of plant-based products" under the Jörd brand.
just-food's guide: Plant-based priorities – dairy companies with a stake in dairy-free