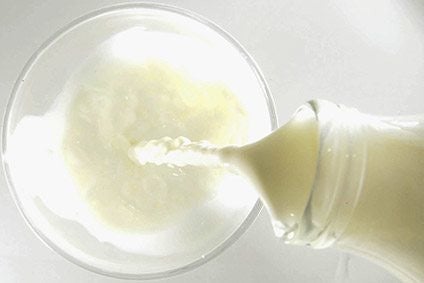 Sainsbury's, the UK's third-largest grocer, has decided to increase the number of companies that provide it with milk and cream, adding Medina Dairy and Tomlinsons to its suppliers, alongside Arla Foods and Muller.
The retailer said Medina Dairy and Tomlinsons would also supply the business from July next year. Sainsbury's said the changes came after a tender process.
Medina will supply an unspecified number of Sainsbury's stores in the south of England. Tomlinsons will take on milk distributed to stores in Wales and parts of England.
Sheazad Hussain, Medina Dairy's chief executive, said: "Medina Dairy's vision is to increase our presence in the larger UK retail and foodservice market including the national multiples. The new Sainsbury's contract reflects Medina's ongoing commitment to investing in our processing and supply chain capabilities, management team and systems so that we remain a credible and competitive alternative in a consolidating market."
In October, Medina Dairy struck a supply deal with Muller, which was looking to get its move to buy Dairy Crest's liquid milk operations approved by UK competition officials.
Muller's acquisition of the Dairy Crest unit was set to leave only two major suppliers of liquid milk in the UK – the German giant and Arla. The UK Competition and Markets Authority had asked Muller to put forward proposals to maintain an acceptable level of competition in the market.
Muller struck an agreement to supply Medina Dairy with up to 100m litres of milk each year in Dairy Crest's Severnside dairy for supply to the retailers and the regulator gave the deal with Dairy Crest the green light.
Hussain said today (24 February) the deal with Muller was "delivering further opportunities for us to develop relationships with national retail and foodservice customers".
Arla said the tender process had resulted in the European dairy giant being set to supply more milk to Sainsbury's.
Tomas Pietrangeli, managing director for Arla's UK business, said: "Sainsbury's is a strategic customer for Arla and we are delighted with the outcome. It underlines the importance of some the joint initiatives that Arla has delivered with Sainsbury's."
Andrew McInnes, the managing director for Muller's UK arm Muller Milk & Ingredients, said the changes meant the company would be "deepening our relationship with Sainsbury's". He added: "Our new agreement is very much in line with our aspiration to build a sustainable fresh milk and ingredients business for the future."
Tomlinsons could not be reached after office hours.