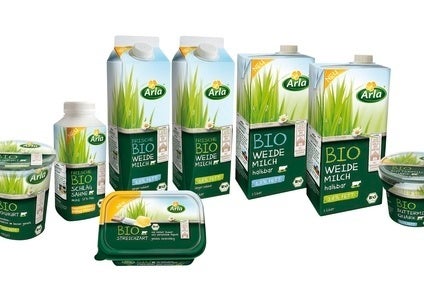 Arla Foods is to expand a dairy plant in Germany as part of the dairy giant's bid to build its organic business in the country.
The co-op is increasing the capacity of its facility in Upahl in northern Germany, which produces conventional and organic dairy products.
At present, the site processes 80m litres of organic milk of a total of 600m litres. However, Arla, eyeing growing demand for organic dairy products in Germany, wants to produce more organic products at the facility.
"We launched our Arla organic brand in Germany last November and it has been a success," a spokesman for the group's German division said. "We started with six products, now we have 12 and we will extend that in the future."
The EUR24m (US$30.4m) investment at Uphal, part-funded by the state government of Mecklenburg-Vorpommern, will see 58 jobs created. The facility employs 414 staff.
The expansion is scheduled to be complete in 2017. Once the work is finished, Arla is also mulling using the site to produce organic lines for markets outside Germany. The spokesman said Sweden, Denmark and the UK were under consideration but no decision had been made.