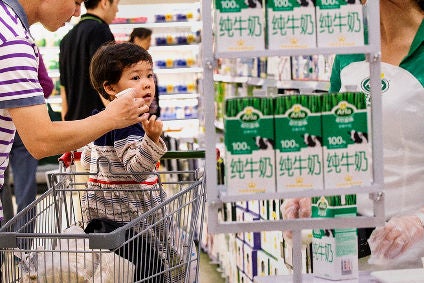 European dairy giant Arla Foods has played down a report it is preparing to open a production facility in China – but confirmed it remains "committed" to growing its presence in the country.
The Danish business news publication Borsen claimed the group wanted to establish a plant in China to boost domestic and regional sales.
However, an Arla spokesperson told just-food today (2 May): "At the moment we have no specific plans in place or decisions made concerning local production in China."
But the spokesperson said Arla "is committed to the Chinese dairy market and continues to supply high-quality dairy products to Chinese consumers".
"We sell a wide range of products in China – all exported from Europe," the spokesperson said. "For example, UHT milk from Germany, organic milk powder from Denmark, powdered milk for all ages from Denmark, plus a small but growing amount of cheese and some butter."
In February, Arla forecast its revenue would "grow significantly" in 2017 after seeing low global prices put pressure on its top line last year. CFO Natalie Knight told just-food there had been an improvement in prices in the later part of 2016, which the Lurpak butter and Castello cheese maker expected to help boost revenues.