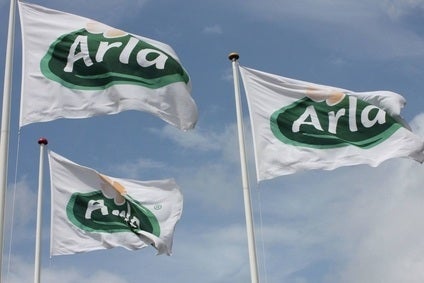 Dairy co-operative Arla Foods reported rising sales and profit as well as higher payouts to its farmer owners during 2014, but sounded a note on 2015 due to volatility in dairy commodities.
Arla said today (18 February) that revenue rose to EUR10.61bn (US$12bn), up from EUR9.87bn. Its 2014 performance price, a key metric for the dairy cooperative, rose to 41.7 cents per kilogram, up from 41 cents per kg in the prior year. The group's net profit increased EUR314m, up from EUR295m in 2013.
The company said during the year it successfully diverted more of its milk supply into key brands – Arla, Lurpak and Castello – with sales up 2.1%. "Throughout 2014 we have worked hard to move more milk into value-added brands, by enhancing our portfolio to our customers through further investment in innovation," CFO Frederik Lotz said.
Arla also expanded international sales despite Russia's ban on dairy products from the EU, which led the company to cut jobs in Denmark. "We saw 14% growth in our international business despite the Russian embargo. There has been steady growth in China, and we have created growth of 20% in the Middle East and Africa. In 2014 we have begun to enter new markets in Asia and Africa, and in 2015 we will continue to move into new markets where safe and high-quality dairy products are in growing demand," Lotz continued.
However, Arla stressed 2015 is likely to be a challenging year for the co-operative and the group did not provide performance price or revenue forecasts for the coming year.
CEO Peder Tuborgh added: "The global dairy industry has never been as unpredictable as it is now, but we believe that our strategy is the right one to take us forward. We continue to rigidly streamline and control costs, while investing significant sums in marketing and new products. Arla's ability to profitably handle larger milk volumes will define the success of the business in 2015. We will enhance the quality of our product range and our positions and stand strong when the market turns."