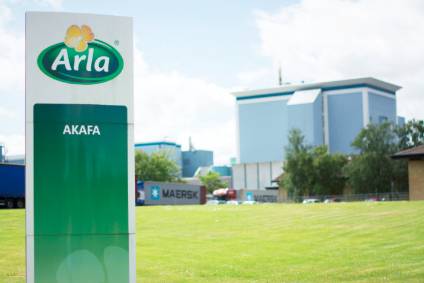 Arla Foods saw sales increase in the first half of the year on the back of a robust performance from the Danish dairy giant's major brands.
But, looking at the risks ahead, the cooperative remains concerned that Brexit talks between the UK and the European Union appear to be progressing slowly.
The UK is negotiating with the EU over a trade deal for when the country leaves the bloc at the end of this year. If no deal is agreed, the two parties will have to revert to World Trade Organization terms.
Speaking to just-food after Arla's results were announced today (3 September), CFO Torben Dahl Nyholm said: "It [a no-deal Brexit] is a concern. It is not a good thing for the industry or Arla.
"We are preparing for different scenarios. None of them are good but some are significantly worse."
Arla saw its sales increase by 2.8% in the first half of 2020 to EUR5.4bn (US$6.4bn) on a year-on-year basis.
Dahl Nyholm said the company is happy with that gain.
"We are pleased because of the way it came about with all our brands doing very well," he said.
"All the brands exposed to the in-home cooking trend have seen strong demand."
During the first half of the year, Arla's volumes for global brands increased by 10.4%. Butter brand Lurpak rose by 17.7% and the company's milk-based beverage delivered volume growth of 13.1%, "mainly thanks to Starbucks".
Its international arm achieved its highest sales growth in five years at 22.1%. Arla said the Middle East and North Africa (MENA) region was the main driving force behind the growth as home cooking and total dairy consumption increased sharply in the region due to closures and curfews.
CEO Peder Tuborgh said that during the pandemic the company has "quickly channelled milk from our foodservice business to the retail trade and managed to maintain a steady flow of in-demand products, while our foodservice business found creative solutions to support its customers".
Dahl Nyholm told just-food there are signs the foodservice channel is starting to open up again.
"We saw it in June and July even in countries where there has been a hard lockdown," he said. "But the trend is still very much hand-in-hand with the lockdown. As long as we still have restrictions in restaurants and cafeterias and people are working from home, it will still trend lower."
Arla saw 4.7% revenue growth in the UK in the first half of 2020 but, according to a Tweet today from the company's UK arm, "challenges remain for [the] liquid milk category".
However, Dahl Nyholm said that was a local concern and "not a broad trend".