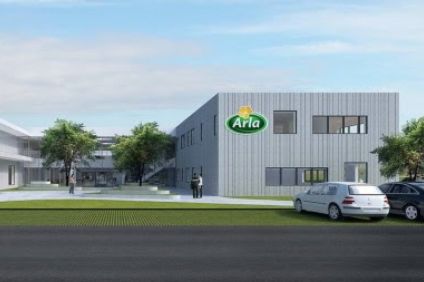 Danish dairy giant Arla Foods has announced it is to build a new innovation centre in its home market focusing on the potential of whey.
The farmer-owned business said the centre, near Vium, will be home to scientists and innovators who will "discover and deliver new ways of using milk and whey to serve the needs of the world's growing population".
Peder Tuborgh, CEO of Arla Foods, said: "The world's population is growing, which increases the need for healthy and sustainable food. It is a big challenge, and in Arla we want to be part of the solution.
"We know that dairy nutrition can play an important role in securing a healthy and balanced diet for people across the world, and with this innovation centre we will use cutting edge research and technology to explore milk and whey to their full potential as ingredients for a wide range of nutrition."
The news of the new centre came as Arla Foods announced it is planning to pay its entire 2018 profit to farmers who are struggling financially due to the drought that has affected Europe over the summer.
The firm – a cooperative owned by more than 11,200 farmers in the UK, Denmark, Sweden, Germany, Belgium, Luxembourg and the Netherlands – said it expected the payout to be worth up to GBP278m (US$362m).
Arla chairman Jan Toft Nørgaard said: "As a farmer-owned dairy company, we care deeply about the livelihood of our farmers and we recognise that this summer's drought in Europe has been extraordinary.
"We are proposing that extraordinary measures be taken in this situation and the board is satisfied with the positive development of the company's balance sheet, which makes this proposal possible."
The investment in the innovation centre, which is expected to open in 2021, was also approved by Arla Foods' board of directors.
The centre will be part of Arla Foods Ingredients (AFI), the Arla subsidiary that has helped to transform whey from what was once considered a waste product to a high quality ingredient used for infant nutrition, clinical nutrition, sports nutrition, health foods and other foods and beverage products.
The new 9,000 sq metre centre in Vium will be close to Arla Foods Ingredients' largest production site, Danmark Protein.
Construction work will start next autumn and, when complete, it will employ up to 90 people.
Arla opened another innovation centre in Skejby, Denmark, last year.