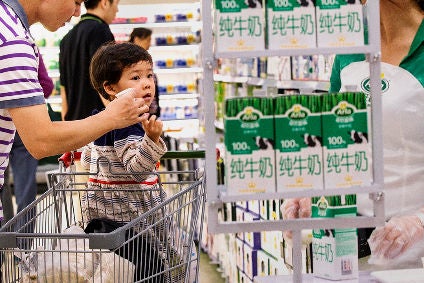 European dairy cooperative Arla Foods has announced moves to invest up to EUR335m (US$359m) in its production sites around the world this year to support its plans to "move more milk from bulk into branded retail sales and foodservice"
Arla said the decision will see a 50% increase in investment compared to the EUR227m announced last year and create "one of the highest ever single-year supply chain investment forecasts in company history" in its ambition to expand production of "branded high-quality products for Europe and emerging markets".
Around EUR18m of this year's investments "will go into expanding and developing Arla's production for foodservice customers", Arla said. Most of the investments will focus on production upgrades that Arla said will increase the profitability of products sold in core markets like Germany, the UK, Denmark, Sweden, the Netherlands and Finland, as well as on production sites that supply "high-quality dairy products to Arla's emerging markets outside the EU".
Arla said its Denmark Protein site, which produces ingredients including protein and lactose will receive the biggest investment of around EUR30.6m. The money will be spent on general upgrades and expansion of production facilities, including improvements of the site's protein and lactose processing.
Povl Krogsgaard, vice-CEO and executive vice president of Arla's supply chain, said: "One of the ambitions in our strategy 2020 is to be a global leader in natural whey ingredients for food producers in a range of categories – from bakery, beverages, dairy and ice cream to medical, infant and sports nutrition. The investment in our Denmark Protein site is key to meeting that ambition and it will help us build on an already strong and profitable part of Arla's business."
Some EUR13m will be invested in the Rødkærsbro dairy in Denmark, the main producer of Arla's mozzarella. Other investments include more than EUR12m at Arla's cream cheese dairy site in Holstebro, Denmark, "to introduce new, innovative packaging designs that will give products an edge on the supermarket shelf". Phase one of this project is expected to be completed by the end of 2017, with phase two to follow in 2018. Krogsgaard said: "We are now stepping up our sales ambitions for spreadable cheese and cream cheese both in Europe and in our emerging markets, where more consumers look for products containing natural ingredients".
Arla said its 2017 investment forecast also includes 150 projects at a total investment of about EUR5m aimed at improving its energy efficiency. Across all sites, EUR22m will be spent on "continued rationalisation of production as part of Arla's ongoing commitment to keeping operational cost low".
Krogsgaard said Arla had set an overall "ambitious cost improvement target of EUR400m to be reached by the end of 2019.
Arla said "towards 2020" it expects 50% of its growth to come from Europe, with the other 50% coming from emerging markets outside Europe, where the company's "strategic focus is especially on the regions Middle East and North Africa, China and south-east Asia, sub-Saharan Africa, and the US".