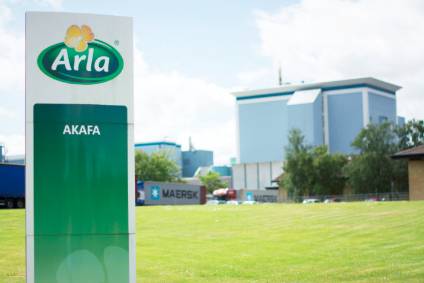 European dairy giant Arla Foods has increased its forecast for how much it sees its branded volumes growing this year, saying its focus on sustainability and innovation is driving the higher expectations.
The Danish cooperative, owned by 10,300 farmers, is now expecting to see branded volume growth of 3.5% or above in 2019, up from its previous target of 1.5%-3.5%.
Reporting its half-year results, Arla said it saw branded volume growth of 4.6%, compared to 3% a year earlier.
The Arla brand saw 5.3% growth, while Lactofree grew by 13.5%. Butter brand Lurpak was up 1.6%.
Arla Foods chief financial officer Natalie Knight said: "We have continued to build engagement and relevance of our brands through innovative products, brand activation and digital content. Consumers are pushing for more nourishing and sustainable food choices, which is why our intensified climate agenda will help increase both the credibility of Arla farmers and our competitive advantage."
Arla said the first half of 2019 saw "a rare stability in the otherwise volatile global dairy market", resulting in stable prepaid milk prices to farmer owners across Europe.
Total revenue grew 2% to EUR5.2bn (US$5.8bn) driven by higher branded sales volumes and an increase in sales prices.
Arla CEO Peder Tuborgh said: "We have strengthened our competitiveness relative to our peers and improved our profitability while launching our ambitious climate goal to become carbon net-zero by 2050. We are focused on delivering on our ambitious targets for 2019 while remaining alert and prepared for the continued uncertainties around Brexit."