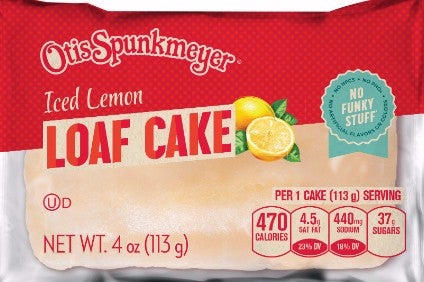 Switzerland-based bakery giant ARYZTA is rolling out four more snack products under its Otis Spunkmeyer brand in the US.
Aryzta said the snacks – Chocolate Chunk Cookie, Iced Lemon Loaf Cakes, Cinnamon Crumb Loaf Cake, Mini Brownie Bites – are free from "ingredients that consumers want to eliminate from their food" and made without high fructose corn syrup, partially hydrogenated oils, artificial colours and artificial flavours.
The company is looking to build on its push, announced in 2015, behind foodservice-focused brand Otis Spunkmeyer into the US retail channel.
Otis Spunkmeyer brand manager Charice Grace said: "We're seeing that when it comes to snacking, consumers are looking to buy foods containing better-for-you ingredients, no matter where they are." The new products are being targeted at US convenience stores.
Eighteen months ago, Otis Spunkmeyer announced plans to expand its presence in the country's retail stores with the launch of a wider range including muffins, cupcakes and brownies, as well as the cookies through which the company has developed a significant presence in the US foodservice channel.
The push behind Otis Spunkmeyer has put pressure on Aryzta's North American business, the company admitted in January.
Aryzta said in the five months to the end of December its North American business had seen sales fall and costs rise. It admitted its Otis Spunkmeyer push had hit the business. The company said the move had "triggered the earlier than anticipated loss of co-pack volumes". The consumer-facing businesses for which Aryzta had been acting as a co-packer, seeing the drive behind Otis Spunkmeyer in retail, moved their business elsewhere.
However, then CEO Owen Killian said: "Aryzta's brand investment strategy in Otis Spunkmeyer will in time replace the co-pack volumes and create a more predictable and higher margin business."
In February, Killian, CFO Patrick McEniff and John Yamin, the head of Aryzta's business in the Americas, tendered their resignations amid a review of the group's operations, designed to try to improve its performance.