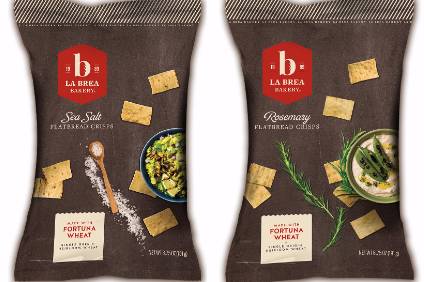 ARYZTA has moved its US brand La Brea Bakery into snacks with the launch of a range of Flatbread Crisps.
The Switzerland-based bakery products supplier said the new "twice-baked artisan snack option is made from single origin heirloom wheat" and contains "premium, flavourful ingredients like fresh herbs and distinctive spices". Flatbread Crisps are available in Rosemary, Sea Salt and Smoked Paprika varieties.
La Brea Bakery brand director Andrew Blok said the launch highlights how the brand is "reimagining and innovating better food". Blok said: "Made from simple, recognisable ingredients and baked with integrity, the new La Brea Bakery Flatbread Crisps are the perfect addition to our carefully crafted retail line of foods."
According to Aryzta, La Brea is "revolutionising the industry" with the use of Fortuna Wheat grown in Big Sky Country, Montana". Last year, the company said it introduced La Brea Bakery Reserve made from single origin Fortuna Wheat "as the first farm-to-table artisan bread to be sold in retail stores nationwide". Consumers now "have a view into not only where their wheat comes from but also that it was grown responsibly", the company said.
Flatbread Crisps are sold in individual 6.75 oz. bags and retail in grocery stores nationwide for US$3.99.