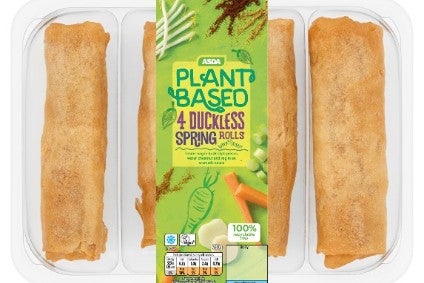 Big four UK supermarket chain Asda has launched a plant-based range of food products to coincide with Veganuary.
The 48-strong line up under the Asda Plant Based label includes chilled and frozen ready meals, meat-free burgers and sausages, duck-less spring rolls and tofu burrito at prices starting from GBP1.50 (US$1.97).
Instead of the commonly used meat substitute soya, Asda's plant-based mince, burgers, sausages and meatballs are made from a mushroom base to give a "meaty and savoury umami taste".
Citing its own research, Asda said it found 52% of 18-34 year olds plan to reduce their meat intake this year, although 33% of UK households surveyed (2,003 in December) noted how price was the key sticking point amid the belief plant-based food offerings are more costly than their conventional counterparts.
Asda claims its new range is the "most affordable on the market, giving customers more convenient, cost-effective options".
Julie Wild, the own brand strategy manager at Asda, added: "The demand for plant-based products is growing at a rapid rate, but it can be challenging for customers to find diverse, high quality, and inexpensive options on the market. The new Asda Plant Based range with 48 new products to choose from – all approved by the Vegan Society – has been designed to offer something for everyone, at affordable prices."
All packing trays and sleeves are 100% recyclable.