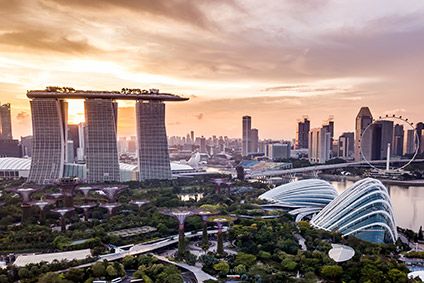 A report published today (20 November) looking at Asia's food and agricultural sector suggests there is a need for US$800bn of additional investment over the next decade.
The Asia Food Challenge Report, produced by UK advisory firm Pwc, Dutch investment bank Rabobank and Singapore's sovereign-wealth fund Temasek, estimates the market will grow 7% a year, with Asia predicted to double spending on food to more than $8trn by 2030.
The authors estimate that $800bn above existing levels of investment over the next ten years will be needed to grow Asia's food and agriculture industry to a sustainable size in order for Asia to feed itself.
However, the report revealed investment in Asia's agri-food sector is lagging behind other regions, particularly North America and western Europe, due in part to the sheer diversity of countries, their varying levels of economic development, and regulatory systems.
The report says the majority of the $800bn of investment needed – around $550bn – would enable key requirements around sustainability, safety, health and convenience. The remaining $250bn would drive increased quantities of food to feed Asia's growing population.
Richard Skinner, Asia Pacific deals strategy and operations leader at PwC Singapore, said: "Asia faces a crossroads. On the one hand, current lack of investment, and the slow development and use of technology across the food & agriculture supply chain has held us back and left us dependent on others. On the other, we can reverse that by being at the forefront of technological innovation, disruption and use, transforming the industry and bringing benefits to the consumer, returns to corporates and investors, and value-adding jobs across Asia."
The report addresses the challenges and opportunities that Asia's agri-food industry faces. The region is urbanising rapidly and, by 2030, it will be home to approximately 250 million more people.
Ping Chew, Asia head of Rabobank's RaboResearch Food & Agribusiness, said: "Asia needs innovation and technology to transform its agri-food system into one that is ecologically and economically sustainable. Only through working together with shared responsibility and acting now can Asia feed itself while preserving the planet for future generations."
The report's authors are calling for greater collaboration and shared responsibility between the public and private sectors in the region, stronger backing from governments in terms of policies and legislation that support new technologies and innovations, and the formation of corporate venture capital teams and incubators.
They say several Asian cities, such as Beijing, Hong Kong, Mumbai, Singapore and Tokyo, have the potential to become agri-food innovation hubs.
Singapore has already set in motion a range of government policies and initiatives to develop itself into such hub. Its Singapore Food Agency has set a goal to produce 30% of the country's nutritional needs by 2030 by adopting new solutions and technologies to grow more with less.