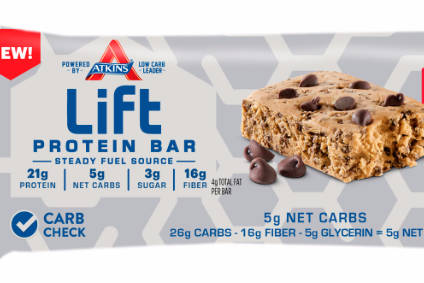 Atkins Nutritionals, the US weight loss and management firm, is rolling out a range of snack bars and drinks in the US that it calls its first "lifestyle" product line.
The company is launching protein bars and protein-enhanced drinks in a bid to target consumers who are not focused on losing weight but are instead watching their diet.
"We are focused on both the weight loss and lifestyle needs of consumers," Atkins chief marketing officer Scott Parker told just-food. "While many of our products provide solutions for consumers who are looking to lose weight, we continue to see an uptick in the number of people who are watching their carbs as part of their lifestyle, and they are looking for products that meet their needs. We believe Lift addresses the need for protein bar and drink options that are both low in carbs and provide the protein and fiber these consumers seek."
The Atkins Lift bars, which contain whey protein, come in four flavours: salted caramel crunch, chocolate chip cookie dough, peanut butter chocolate chip and chocolate brownie with almonds.
All four of the protein bars are available in multi-packs of four at a recommended price of US$8.49, as well as in single packages at $2.35.
The amount of whey protein in the bars ranges from 20 to 21 grams. Each bar contains three grams of sugar and four to five grams of "net carbs", Atkins said.
Three flavours of drinks have been developed – berry, orange and lemon. Each drink has 20 grams of whey protein, zero grams of sugar, and 90 to 100 calories. They are sold in a 16.9-ounce bottle.
The drinks are sold in multi-packs of four for a recommended price of $9.49.