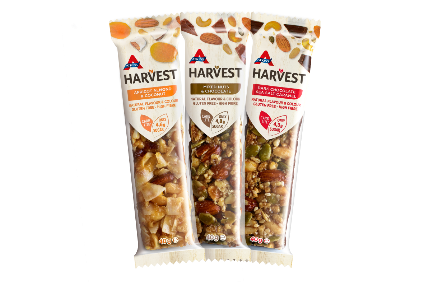 US snack brand Atkins, which markets products associated with weight-loss, has launched its first all-natural ingredients bar in the UK, Atkins Harvest.
Containing natural raw ingredients, Atkins claims the bar has 50% less sugar than other nut-and-seed bars on the market.
A spokesperson for Atkins – a brand owned by US firm The Simply Good Foods Co. – said: "What makes this bar so unique is the all-natural ingredients that are also low in sugar. The difference for Atkins is that it targets those looking for a healthy/alternative snack, rather than those looking for a weight loss product.
"Previous bars from Atkins such as LIFT focused on wellness and nutrition, which meant they included ingredients such as added protein. This has been stripped right back."
Atkins Harvest contain no artificial sweeteners, colouring or preservatives, has 4.3g to 4.8g of naturally-occurring sugars per bar and is low-carb, high in fibre and gluten-free.
The bars are being sold in selected Tesco and Superdrug stores in the UK. and the new range is available in three flavours, Dark Chocolate and Sea Salt Caramel, Apricot Almond and Coconut and Mixed Nuts and Chocolate. The bars have an RRP of GBP1.85 (US$2.45).
UK managing director Peter Valentine said: "We've been incredibly excited to launch Atkins Harvest to the market, a natural bar that's low in sugar, carbs and high fibre, with no compromise on quality and taste. The vertical on-shelf display has also received positive feedback all-round, with its optimal shelf space ROI.
"The natural bar market is in high demand and the development of the Harvest range is in direct response to this. The Atkins portfolio continues to grow and we are confident we have a product that caters to all individual tastes and needs."
Simply Good Food was created earlier this year when US acquisition vehicle Conyers Park Acquisition Corp. bought Atkins Nutritionals from private-equity firm Roark Capital Group.