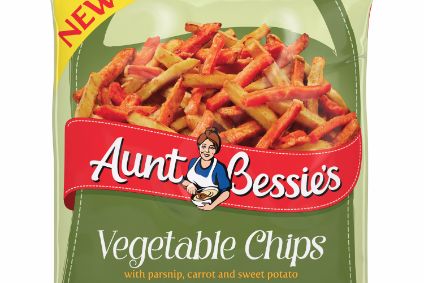 Aunt Bessie's, part of the UK's William Jackson Food Group, says it is responding to demand for low carb foods by extending its frozen foods range to include Vegetable Chips.
The move, which the group says is a "first for frozen Vegetable Chips" in the UK, follows last year's launch of Aunt Bessie's Sweet Potato Chips.
"Understanding that people want to reduce carbs and add more veg to their diet, Aunt Bessie's has developed frozen Vegetable Chips, which count as one portion of your five-a-day and are made up of parsnips, carrot and sweet potato," the company said.
Lorraine Rothwell, marketing director at Aunt Bessie's, said: "Our research showed a real opportunity for branded frozen Vegetable Chips. We're seeing growth in the market for carb-alternatives such as spiralised veg and veg rice, and with a strong shopper base in chips, we identified a great opportunity to combine root veg favourites and help shoppers reduce carbs."
Vegetable Chips are made up of a mix of root vegetable favourites that can be baked in 20 minutes.
The new line is launching in Waitrose and Tesco stores from 6 March and will be available in 500g packs at a suggested price of GBP2.49 (US$3.04).