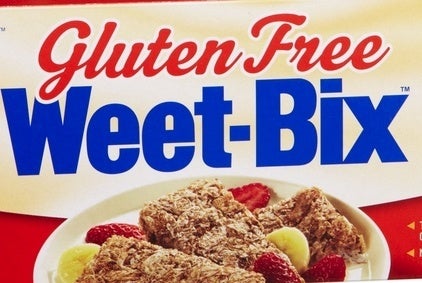 Australian food group Sanitarium has launched a gluten-free version of flagship breakfast cereal brand Weet-Bix.
The gluten-free option, which went on sale at Coles stores this week, is made with sorghum.
Over the past six months, Sanitarium has recommissioned a Perth-based Weet-Bix factory into a dedicated gluten-free manufacturing site.
Sanitarium described the move as a "significant innovation" and it will serve a growing market for gluten-free products. A common criticism of gluten-free lines is taste, which manufacturers have sought to fend off by adding sugar and salt to the products.
Sanitarium nutritionist and Trish Guy said the gluten-free Weet-Bix tastes "very similar" to the conventional product and she emphasised what she saw as the new line's healthy attributes.
"Like Weet-Bix Original it is also low in sugar," Guy said. "Gluten-Free Weet-Bix is made with sorghum grains, which are naturally gluten free, and has a 96% wholegrain content. It contains three times the antioxidants of oats, based on total polyphenol content the natural antioxidant compounds found in plant foods. It is a good source of iron, high in folate and vitamins B1, B2 and B3 as well as being a source of dietary fibre."