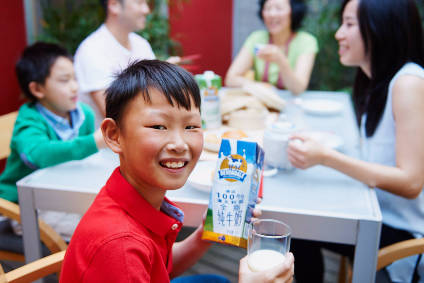 Shares in Australian food companies have taken a hit today (12 April) as the market reacted to new regulations in China on food imports.
Murray Goulburn, the dairy co-operative, dairy-to-cereal supplier Freedom Foods Group and A2 Milk Co., the New Zealand-based business with listings on both sides of the Tasman, were among the companies that saw their shares fall amid concerns over the impact the new rules could have on their access to the Chinese market.
The regulations, which came in on Friday, have seen China change the tax it charges on imported products sold through cross-border, business-to-consumer internet platforms. Import tariffs are now imposed on shipments worth over CNY2,000, with 70% of import VAT and consumption tax levied for orders below that amount. Previously, goods bought on the cross-border B2C websites had been subject to a lower "parcel" tax rate, Reuters said. The new policy is being introduced as China imposes new increased tariff rates more broadly.
Beijing is said to have issued a "positive list" of products that are allowed to enter the country via its free-trade zones, with some foods excluded.
Murray Goulburn, which saw the price of shares in its unit trust close down more than 8% today, confirmed milk powder and UHT milk sold under its Devondale brand had been "temporarily removed from some sites for immediate sale".
However, Murray Goulburn sought to calm fears over the impact the regulations could have on its business in China. "MG has been aware of this Chinese regulatory development for some time, and is well progressed in preparing for any changes which includes using the more traditional off-line distribution arrangements as well as domestic on-line arrangements," it said. "MG's traditional import channels are already well developed, and currently distribute a significant volume of product. MG assures Chinese consumers that Devondale's wide range of products remain available through traditional channels. Based on the information currently available to us we do not believe there will be any material impact to our business, and we will keep the market informed in the event that this changes."
Murray Goulburn added: "We also understand that further clarification is expected from [the] Chinese authorities around the application and content of the positive list in the coming weeks."
Freedom Foods Group saw its shares close down 4.2%. The company said China's tax changes meant the "tax differential between cross-border and traditional e-commerce and retail channels in China have become more equalised". It added: "Under the changes, a list of products allowed to enter the free trade zone excluded UHT milk products and adult milk powder."
The group said it has "no current exposure" to sales of adult milk powder. However, the company does market UHT milk in China. It expects the distribution of its branded So Natural UHT products through cross-border e-commerce channels to switch to "general trade e-commerce channels with the major online retailers JD and Tmall". The company insisted that channel is "the primary growth channel for e-commerce in China".
Freedom Foods Group also said the revenue it makes from UHT milk into China is "mainly" through traditional retail distribution via contracts to manufacture for Chinese dairy companies and through other branded distributors, including the company's own branded Australia's Own Kids Milk.
A2 Milk shares trading on the Australian Stock Exchange fell 6.5%. Shares in infant formula business Bellamy's Australia closed down more than 10%. Bega Cheese, the Australian dairy group, saw its shares slide 3.3%.
The CEO of Australian vitamin maker Blackmores, which saw its shares drop 19% today, told Bloomberg the market had over-reacted to the news.
"People assume the worst," CEO Christine Holgate told the news agency. "There is nothing on those lists today that I can see that gives us any concern."
just-food has contacted Nestle, Danone and Mead Johnson – three other companies with notable businesses in China – for further comment.