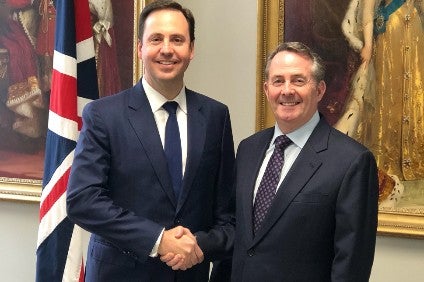 Australia has sought to soothe fears within parts of the UK food industry a post-Brexit, free-trade agreement between the two markets could see its agriculture industry target Britain.
Speaking at UK food-industry event in London on Tuesday evening (27 March), Steven Ciobo, Australia's Trade and Investment Minister, said British food companies "ought not to be concerned about what a free-trade agreement might mean between the two countries".
There has been some concern a deal could lead to better access to the UK for Australia's dairy and meat exporters. According to a report from Australian media group News Corp. on Tuesday, Ciobo was quoted to have said in a separate speech on London that Canberra wants to start talks with the UK on a trade deal on the day of Brexit.
However, Ciobo's speech was said to have also read: "The Australia-UK trading relationship took a big hit when the UK joined the European Community — especially our agricultural exports. So it will come as no surprise that Australia is determined to ensure that our limited access to the EU and UK markets is not further diminished as a result of the UK leaving the EU."
Nevertheless, speaking at an annual dinner hosted by the Food and Drink Federation, a UK trade association for food manufacturers, Ciobo said: "I can assure you we are not viewing the UK and Europe as out primary target for agricultural exports," Ciobo said. "From time to time, I hear people remark about Australia and they sound as if Australia is one gigantic farm. That's not the case. We're a very modern, highly-diversified economy, for which agricultural products account for 2-3% of GDP.
"We are sometimes confused for Mercosur countries like Brazil. Even on the most robust estimates of Australia's agricultural output, we do export around two-thirds of what we produce. We can feed about 60m people. We have a domestic population of 24m. We have markets to our north and our immediate west. China of 1.3bn, India with a similar sort of number, Indonesia with 250m, of which 50m middle-class are expected to grow to 100m middle class over the next 20 or so years."
Ciobo told the FDF dinner Australia could be "a launching pad" for UK food exporters eyeing markets in Asia, particularly China.
"The opportunity that really presents itself in terms of a free-trade agreement is to speak to something every exciting, which is the continued rise of Asia. We are genuinely so positive and excited about the opportunities across Asia," he said.
"There are tremendous opportunities for you to invest directly into Australia. As investment minister, we welcome foreign investment. We see foreign investment as critical for us reaching our full economic potential. You should see Australia as a safe destination for investment. A common language, a familiar political system – all requirements that mean, when you are looking at opportunities for an Asia growth strategy, Australia is your logical landing pad, as well as a natural launching pad into Asian markets more broadly.
"If we can conclude a high-quality, comprehensive free-trade agreement between Australia and the UK, the opportunities for you to be able to invest and grow your businesses in Australia and throughout the region will be very significant."
The FDF agreed there were "fantastic opportunities" for UK food companies in Asia. Reacting to Ciobo's speech at the FDF event, Dominic Goudie, policy manager for exports, trade and supply chain at the association, said it wanted to see measures from the UK government to support exporters.
"Last year alone exports to China, South Korea and Japan grew by 29%, 22.6% and 6.8% respectively, with most of this growth driven by the rapidly growing middle classes in these countries. While these statistics are impressive, just one in five food and drink manufacturers currently export so there is huge untapped potential for our sector across the globe. We hope that an ambitious sector deal for food and drink manufacturing as part of the Government's Industrial Strategy will provide direct interventions that support new and existing food and drink exporters."
Officials at the UK's National Farmers' Union were approached for a reaction to Ciobo's comments at the FDF event but had not responded at the time of writing.