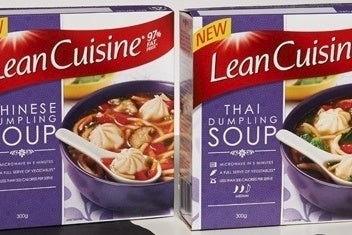 Simplot has launched a new range of soups under the Lean Cuisine banner in Australia.
Available from 9 June in Coles, Woolworths and independent supermarkets, the new Asian soups range is designed to target those with "busy lifestyles" looking for a "quick yet nutritious and tasty lunch or light dinner option," said Simplot Australia CEO Suzanne Harman.
The range features four flavours: Thai Dumpling; Malaysian Chicken Laksa; Chinese Dumpling; and Chinese Chicken & Sweet Corn. All the soups are under 250 calories per serving and feature a full serve of vegetables per bowl.
"We are really confident that the Lean Cuisine Asian Soups range will appeal to those with active social lives who are looking for a fast meal option this winter, but one that doesn't compromise on taste, nutrition or quality," Harman said.
RSP for the soup is AU$5.69 for a 300g serving.