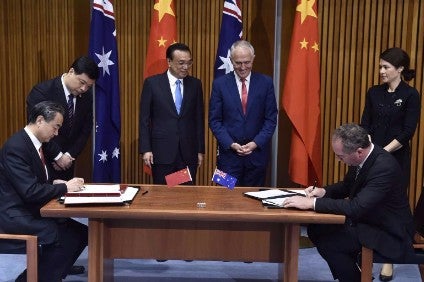 A deal to boost access for Australian meat exports to the Chinese market has been struck by the country's governments.
The agreement, which also promotes food safety and security, "is a key outcome" Chinese Premier Li Keqiang's visit to Australia this week, the governments said in a joint statement.
Australian Prime Minister Malcolm Turnbull said the deal would enable "better access to the Chinese market for Australian meat producers and exporters, including for high-quality Australian beef, and offer better choice for Chinese consumers".
The governments claimed the agreement, which removes some restrictions on Australian meat exports to China, is estimated to be worth "in excess" of AUD400m (US$304m) for Australia's meat industry.
The terms of a "Joint Statement on Enhancing Inspection and Quarantine Cooperation" will "unlock a number of trade restrictions currently in place to support Australian meat and livestock exports" Australia's Deputy Prime Minister and Agriculture Minister Barnaby Joyce said. These include expanding the chilled meat trade and "expediting the listing of 15 additional establishments eligible to export meat to China, advancing Australia's access for tripe exports to China and initiating trade in donkey meat and edible skins to China".
The agreement also sets out a "protocol" for the export of Australian slaughtered sheep and goats, Joyce said. "China is already Australia's largest sheep meat market, worth AUD240m in 2016, and is our fourth largest beef market worth AUD670m in the same year."
According to Australia's Ministry of Trade, Tourism and Investment, Australia's beef exports to China have grown from less than AUD100m in 2011 "to exceed AUD600m in 2016".
Both governments also signed a "Salmon Statement of Intent" agreement to "progress negotiations on trade in salmon sourced from approved countries, processed in China, and exported to Australia".