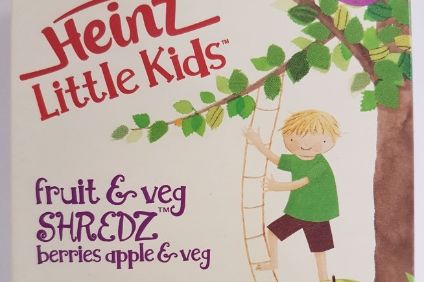 Australia's Federal Court has found food manufacturer Kraft Heinz made a misleading health claim when touting its Little Kids Shredz products as beneficial for young children.
The court found Kraft Heinz had represented that its Shredz products were beneficial to the health of children aged one to three years, when this was not the case.
Further, the court found company nutritionists ought to have known a representation that a product containing approximately two-thirds sugar was beneficial to health of children was misleading.
A hearing on penalties and other orders sought by the The Australian Competition and Consumer Commission (ACCC) will be held on a date to be fixed by the Court.
The ACCC instituted proceedings against Kraft Heinz back in June 2016, alleging images and statements on the Shredz products were misleading.
Commenting after the ruling, ACCC acting chair Delia Rickard said: "We welcome the court's decision today which shows that businesses that make false or misleading claims about the health benefits of products face serious consequences.
"We were particularly concerned by Heinz' conduct because the Shredz products were marketed as being beneficial for young children.
"Heinz's Shredz products consisted of over 60% sugar, significantly higher than that of natural fruit and vegetables. An apple in comparison contains around 10% sugar."
The court found the combination of imagery and words on the packaging, including prominent pictures of wholesome fresh fruit and vegetables and statements such as '99% fruit and veg', conjured up the impressions of nutritiousness and health.
However, the court ruled the ACCC had not established the Shredz products represented to consumers on packaging they were of equivalent nutritional value to fruit and vegetables, or the products encouraged the development of healthy eating habits in children.
The ACCC's action followed a complaint by the Obesity Policy Coalition about food products for toddlers that make fruit and vegetable claims but are predominantly made from fruit juice concentrate and pastes, which have a very high sugar content.
The Shredz product range included three varieties, which were available in major supermarkets in Australia, from 2013 until at least May 2016. The products are no longer on sale.