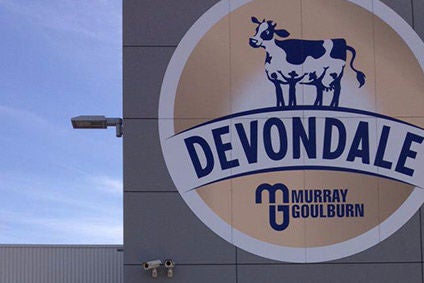 Murray Goulburn, the embattled Australian dairy processor, ran up a loss of AUD32m in the first six months of its financial year, hit by lower sales from both sides of its business.
The company generated a loss for AUD31.9m (US$24.6m) for the half year to 31 December, compared to a profit of AUD10m a year earlier.
The Devondale milk owner provided a figure for its "normalised" EBIT, which stood at AUD23.2m, down 14.1% on a year ago.
CEO Ari Mervis said: "The first half of this financial year has been a particularly challenging time for MG. Record rainfalls and high level of competitor activity have reduced our milk intake, impacting our revenue and our ability to fully recover fixed costs and overheads. In addition, although the recent increases in the global prices of dairy commodities are welcome, they have not recovered in time to impact on MG's first-half sales volume."
Revenue from Murray Goulburn's dairy foods division slid 19.7% to AUD558m. Sales from the cooperative's ingredients arm dropped 7% to AUD481m.
Mervis added: "I am pleased with progress on cost and working capital initiatives, which remain a priority. The release of cash from working capital and continued improvement in cost efficiencies will be a key focus in the second half of this financial year."