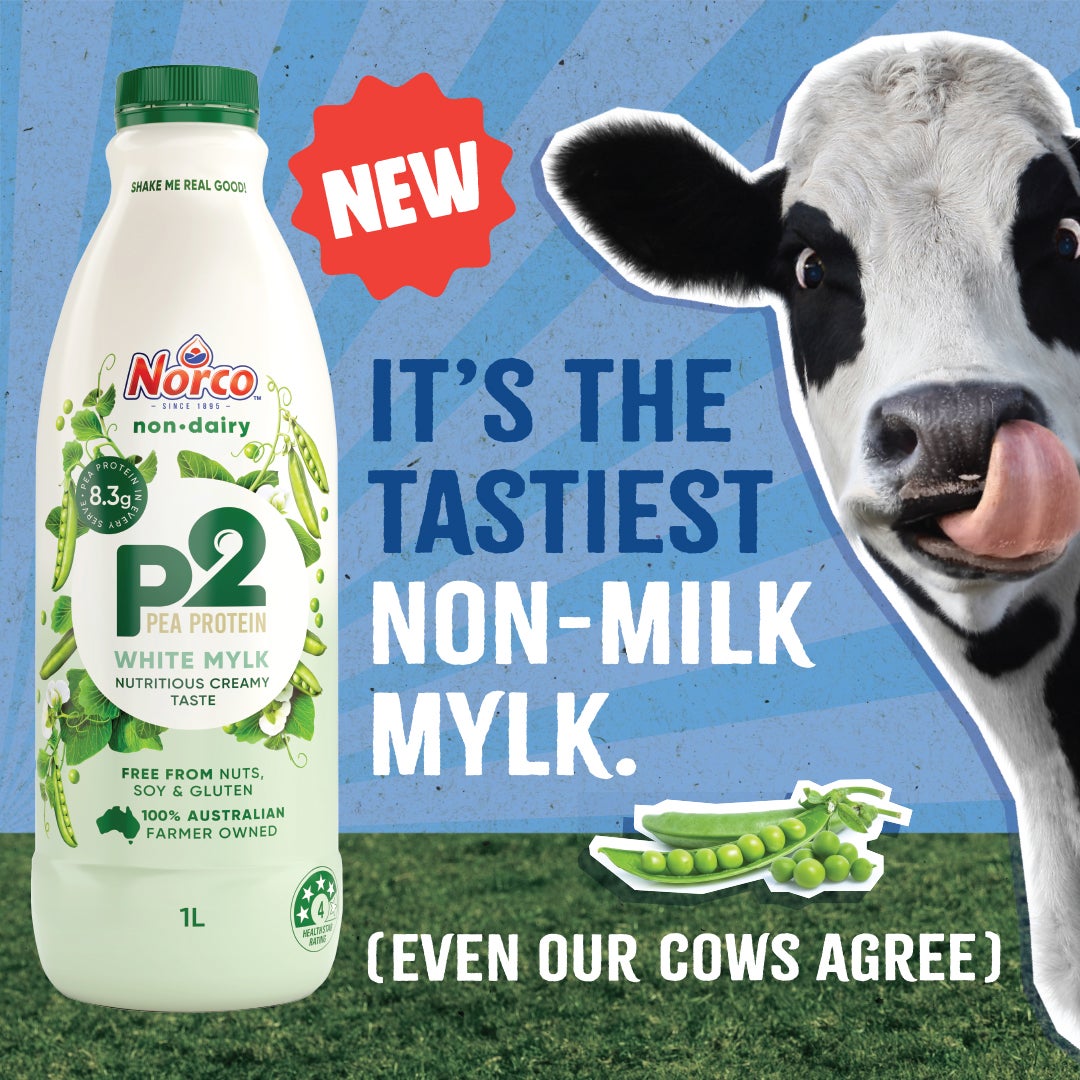 Australia's Norco Co-operative has joined the ranks of dairy companies that include plant-based alternatives in their product range.
The business is selling pea- and oat-based drinks in Woolworths stores in Queensland, Victoria and New South Wales, the co-op's home state. The products have an RRP of AUD5.50 (US$3.67).
Norco said its P2 Pea Protein Mylk and its Oat Mylk give Australian consumers a chance to use an alternative to milk "without needing to compromise on nutrition or taste".
Citing local data from Nielsen, the co-op said "40% of dairy consumers are now incorporating plant-based milks into their diets" but added: "However, traditional non-dairy alternatives such as almond and soy milks typically lack the nutritional value and taste benefits of real dairy milk."
Norco has 281 "active members" of its co-operative across 190 dairy farms in New South Wales and Queensland. Combined, the farmers produce 200 million litres of milk a year.
Ben Menzies, Norco's general manager for commercial and strategy, said: "We know that over 10% of consumers avoid dairy as a result of various dietary constraints and over a third of Norco's loyal customers also shop for alternative milks. With that in mind, our plant-based milks offer a point of difference by introducing a fresh product, packed with plant nutrition, while also supporting a 100% farmer-owned Australian co-operative."
In January, another Australian dairy group, Bega Cheese, said it was weighing up its options to remain in the plant-based sector after accepting an offer for its stake in a joint venture in the category.
Hong Kong-based Vitasoy International Holdings tabled a bid worth AUD51m (US$34m) for Bega Cheese's 49% interest in the venture between the two companies.
Bega Cheese became a partner in the venture alongside Vitasoy as part of the acquisition of Lion Dairy & Drinks in 2021.