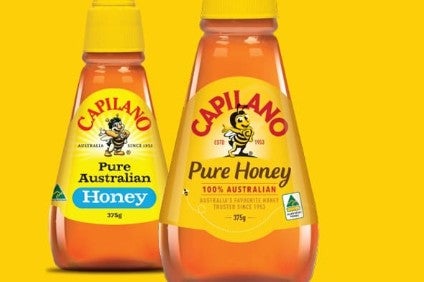 Capilano Honey, the Australian honey producer, has received a joint takeover bid from China-focused investment fund Wattle Hill RHC and Asia Pacific private-equity specialist Roc Partners.
In a statement to the Australian Securities Exchange today (13 August), Capilano Honey said its board "unanimously recommended" the offer, which is worth AUD20.06 a share and values the business at AUD189.7m (US$137.7m).
Capilano Honey said the bid is a 28.2% premium to the company's closing share price on Friday and 25.3% above the volume-weighted average price for the 30 days to the same date.
Wroxby Pty Ltd, an entity owned by Australian billionaire Kerry Stokes, is the largest shareholder in Capilano Honey, holding 20.6% of the firm's shares.
In the absence of a "superior proposal", Wroxby intends to accept the bid from Wattle Hill RHC and Roc Partners, Capilano Honey said.
The supplier's board has hired advisers at BDO to give its verdict on the offer.
Trevor Morgan, Capilano Honey's chairman, said: "The directors have carefully considered the benefits and disadvantages of the … proposal by the consortium and concluded that the cash option … would provide a certain cash outcome for shareholders for their shares at a premium price. Therefore, directors have recommended shareholders vote in favour in absence of a superior proposal emerging and subject to the independent expert concluding the offer is fair and reasonable and in the best of shareholders."
In the year to the end of June, Capilano Honey generated revenue of AUD138.5m, up 4% on the previous 12 months. The company's net profit for the period attributable to members was AUD9.8m, 4.9% higher on the 2016/17 financial year.
Capilano Honey sells honey products under its namesake brand domestically and international, as well as being a supplier of bulk honey.
Last month, Coles, Australia's second-largest grocer, reportedly said it would no longer stock Capilano Honey's Allowrie product, which contained honey from Argentina and China. Australian beekeepers had been critical of Capilano Honey for using honey from the two countries in the Allowrie product.
Woolworths, Australia's biggest grocer, continues to stock Allowrie honey, which is marked on the retailer's website as "packed in Australia from at least 30% Australian ingredients".
Albert Tse, the former PwC and Macqaurie executive who co-founded Wattle Hill in 2014, said: "Our key aim is to enhance the position of Capilano's brands in key domestic markets, as well as drive expansion of brands in offshore growth markets, such as China, as a producer of premium Australian-sourced product. The focus will be on delivering innovative products with therapeutic and digestive health benefits in demand by Asian and Chinese consumers."
Michael Lukin, a spokesperson for Roc Partners, said the private-equity firm and Wattle Hill would continue to give beekeepers representation on the Capilano Honey board.
He added: "We are pleased that we have reached an agreement with Capilano to put forward this proposal to its shareholders. We believe it is a compelling value proposition that will deliver immediate and significant value to all stakeholders."
Shareholders are expected to meet to consider the offer in November.