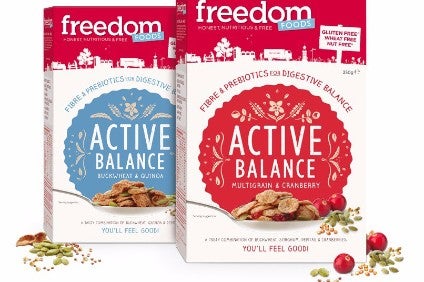 Australia's Freedom Foods Group, which is in the midst of a review of its accounts, has announced the departure of a third senior executive in as many weeks with the resignation of company secretary Trevor Allen.
Freedom Foods, which produces free-from cereals and snacks, and also fresh milk, milk drinks and plant-based beverages, told the Australian Securities Exchange (ASX), on which it is listed, that Allen will be replaced on an interim basis by Scott Standen.
The new man is a director of GRT Lawyers and has been seconded to the company until 30 October.
Allen will continue as a non-executive director.
Freedom Foods did not say in its announcement today (14 July) whether Standen's temporary appointment is linked to its ongoing investigation in relation to its financial position.
At the end of last month, Freedom Foods said it had engaged professional firms Ashurst and PwC to assist with that investigation.
In a call with analysts on 25 June, the company said it was probing the possibility of fraudulent activity after booking fresh write-downs, which followed the departure of its CFO Campbell Nicholas and a leave of absence for CEO Rory Macleod, who has since resigned.
The company has voluntarily halted trading in its shares until October.