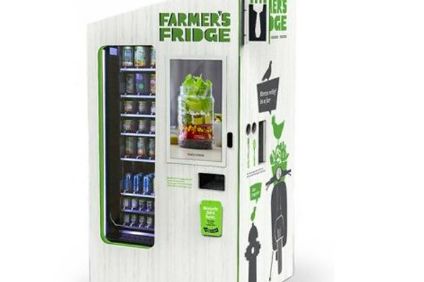 Farmer's Fridge, the US-based automated smart refrigerator business, has closed on a US$30m round of financing led by Innovation Endeavors and including dairy giant Danone's investment arm.
Innovation Endeavors is led by former Google CEO Eric Schmidt while another investor, Cleveland Avenue, is led by former McDonald's CEO Don Thompson.
Founded in 2013, the Chicago firm concentrates on the nutritious meals to go market and operates 186 automated 'smart' fridges in its home state and Milwaukee which act like vending machines and contain "chef-curated, restaurant quality meals" and snacks.
The company has built a proprietary software platform with an in-house team of engineers, which leverages a predictive algorithm to plan inventory at each fridge. Based on customer sales patterns, Farmer's Fridge can ensure each location is stocked to fully optimise demand and minimise waste.
Its venues for the fridges include hospitals, universities, airports, retail stores and office buildings.
Any surplus food is donated to local food depositories.
Commenting on the latest investment round, Luke Saunders, founder and CEO of Farmer's Fridge, said: "We are excited to partner with visionary companies, including Innovation Endeavors, to grow and scale our business to the point where we can positively impact public health.
"Leveraging data and technology is central to Farmer's Fridge and the future of our company. The current round of funding validates our efforts over the past five years and enables us to pursue our global ambitions."
The funding also included participation from GreatPoint Ventures, DNS Capital, Finistere Ventures, DOM Capital and Hyde Park Angels, as well as the aforementioned Danone Manifesto Ventures.