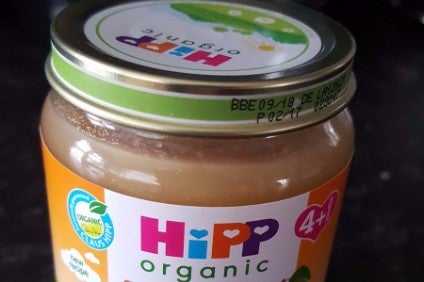 Hipp, the Switzerland-headquartered baby food firm, is to relaunch one of its products in Croatia after becoming embroiled in the row over 'dual standards' – western European food manufacturers allegedly providing inferior versions of their products in the former communist countries of central and eastern Europe.
It is following in the footsteps of German cookie and biscuit maker Bahlsen, which in July moved to unify its production standards in Europe after being caught up in the same on-going row.
Hipp's jars sold in eastern Europe were found by HAH, the Croatian Food Agency, to contain a lower proportion of vegetables compared with the identically branded product sold in the west.
About 38% of Hipp's "bio-rice with carrot and turkey" product sold in Germany was made up of carrot and potato, with a further 15% rice. In the Croatian market, the study found the only vegetable present was carrot (24%), while rice accounted for 21% of the baby food.
HAH also reported, at the beginning of this month, there was also a difference in colour, taste and aroma – and a differing amount of rapeseed oil (1.9% against 1.7%), a source of omega-3 fatty acids that are beneficial to a child's growth.
Hipp denied its baby food was an inferior products and said the ingredients of the product were marked on the jars but added: "Due to the current public discussion about different recipes in European countries, we learned that this proceeding could lead to misinterpretations which we regret very much.
"In consequence, we assessed the recipe of Hipp Rice with Carrots and Turkey in terms of potential equalisations, and will relaunch it with an adapted recipe which is equal to the German one during the next few months."
The relaunch comes amid accusations multinational companies have misled shoppers in eastern Europe for years by selling them inferior products that bear the same branding as those found in the west.
Countries such as the Czech Republic and Slovakia have urged the European Union to create a level playing field.
Slovak Prime Minister Robert Fico called the practice of delivering products with lower-quality contents to post-communist countries degrading and unacceptable and has held a meeting with European Commission President Jean-Claude Juncker to discuss the matter.
Today (26 September) Brussels issued a set of guidelines on the application of current EU food and consumer laws to products of supposed dual quality. The guidelines are intended to help national authorities to determine whether a company is breaking EU laws when selling products in different countries.
Juncker said: "I will not accept that in some parts of Europe, people are sold food of lower quality than in other countries, despite the packaging and branding being identical. We must now equip national authorities with stronger powers to cut out any illegal practices wherever they exist."
The statement and guidelines have been welcomed by the European food and drink industry body FoodDrinkEurope. It said: "This, together with the work of the EU's Joint Research Centre towards a rigorous and trustworthy harmonised testing methodology, should contribute to a better understanding of the facts, evidence and scope of the issue.
"We look forward to continue engaging with the Commission to establish an open dialogue with other parties at stake, including member states and consumer organisations."