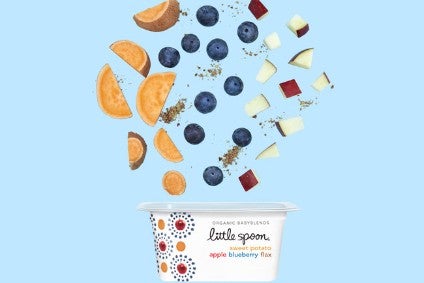 US baby-food start-up Little Spoon has received US$7m in venture-capital funding to support its brand building and product development.
Participants in the financing round include Vaultier7, a UK-based investment fund focused on entrepreneurial consumer brands, and Kairos, another fund centred on start-ups. Tinder founders Sean Rad and Justin Mateen, Interplay Ventures, SoGal Ventures, and the fund affiliated with the owners of the San Francisco 49ers also took part.
A direct-to-consumer business, Little Spoon was founded just over a year ago in California and has already notched up deliveries of one million of its children's meals. The company is focused on nutritional, organic baby foods, and is seeking to build on the inroads made by its Babyblends debut brand.
Formed by Lisa Barnett, Michelle Muller, Ben Lewis, and Angela Vranich, Little Spoon said it has created more than 50 recipes featuring in excess of 80 different ingredients.
"This capital enables us to expand beyond baby's first bites and continue to create thoughtfully designed solutions for all the critical milestones of parenthood," the company's founders said in a statement. "We know that Little Spoon is resonating so deeply because parents today are just like us – they're looking for brands to deliver high-quality yet accessible solutions for their needs, and their expectations only heighten with a new baby."