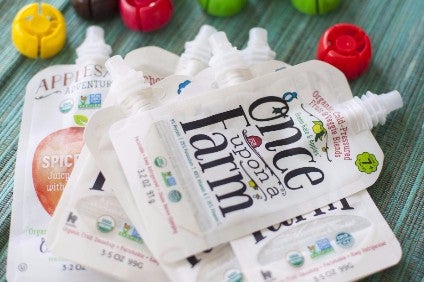 Once Upon a Farm, a US-based start-up producing cold pressed baby foods, has received US$20m in financing from a group of investors led by private-equity fund CAVU Venture Partners.
As part of the transaction, CAVU co-founder and managing partner Brett Thomas and the private-equity firm's senior associate Jared Jacobs will Once Upon a Farm's board. The other participating investors in the B-series round of funding were S2G Ventures and Beechwood Capital, along with unnamed series A investors, according to a statement. The A financing in 2017 was led by Cambridge SPG.
Berkeley, California-based Once Upon a Farm was co-founded by John Foraker, its chief executive, and Jennifer Garner. The company, which is B-corp certified, offers baby foods, apple sauce and smoothies.
Garner said: "This latest round of funding allows us to continue to help busy parents give their children the most nutritious foods possible and make life a little bit easier for families across the country."
Once Upon a Farm said it has expanded from 300 retail outlets to more than 8,500 and now counts Target, Whole Foods, Kroger, Publix and Walmart among its stockists.
Thomas at CAVU added: "The baby food category has lacked real product innovation for quite some time. We're thrilled to partner with John, Jen and the rest of the Once Upon a Farm team to disrupt and lead in this space."
just-food analysis: Why should food companies consider becoming B Corp?