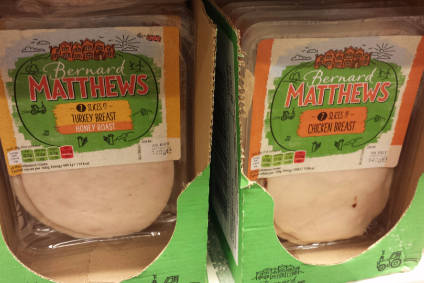 UK-based turkey producer Bernard Matthews, which was bought out of administration by 2 Sisters Food Group owner Ranjit Singh Boparan in 2016, is said to be "back on-track" and set to create 400 jobs in Norfolk.
The positions to be filled are at the company's plant located in Great Witchingham where around 100 jobs were axed last year amid a proposal to cease production of chicken at the site. However, Bernard Matthews said today (16 August) the hiring was in response to a "new supply agreement with a major supermarket chain to supply cooked chicken".
Chris Just, the firm's managing director, said: "This is an exciting development for the business and demonstrates that Bernard Matthews has turned the corner. What's great is that we have the ability to expand our capabilities and offer a cooked poultry product which is in such great demand."
Bernard Matthews was bought by Mr. Boparan's private investment vehicle, Boparan Private Office, after it was put into administration by its previous owner, private-equity firm Rutland Partners, which had owned the business since 2013. The UK's Competition and Markets Authority gave the final green light to the transaction in January 2017 after months of deliberations.
According to a statement today, Bernard Matthews generates annual sales of around GBP200m (US$254.1m), although it is unclear for what reporting period given the timing of the new ownership. Back in 2012, the company had sales of around GBP340m before the business started to go into decline.
"The company has strong market positions across branded and retailer own-brand products, including seasonal fresh turkey, seasonal frozen turkey, cooked meats and breaded poultry," the release noted, adding that the firm supplies retail, wholesale and foodservice customers.
Great Witchingham has "already received substantial investment" since it was bought in 2016, the statement added, with further investments planned at its Holton site, which is also located in Norfolk in the north-east of England, in the next few years.
Managing direct Just added: "It is likely because of the scale of this new opportunity that we're going to have to be innovative in the way we work and extend operations so we can fulfil orders."
Recruitment positions are for roles in factory management, supervisors, skilled operatives and process workers, with Bernard Matthews stressing they are all-year-round jobs rather than seasonal vacancies.