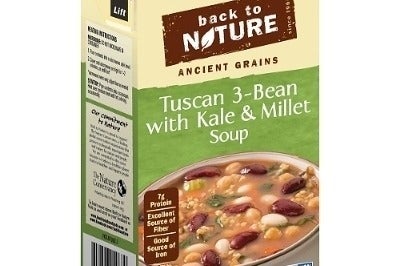 US firm Back to Nature Foods has rolled out two products in two new categories: soups and cereals.
The new lineup will feature a total of 10 soups and cereals that will be rolled out throughout the year in grocery stores nationwide.
Back to Nature's soups are made with ancient grains and have non-GMO Project Verification. Each flavour has between two and six grams of fibre and six to eight grams of protein per serving. Its collection of five cereals is made with whole ancient and sprouted grains.
"We're really excited to introduce two new product categories this year – soup and cereal – which allows us to expand into different dayparts and give consumers more opportunity to enjoy our products anytime during their day – whether it be for breakfast, lunch, dinner or snack time," said Vincent Fantegrossi, CEO of Back to Nature.
"We know that consumers are always looking for more better-for-you options that are rich in nutrients so we've developed these new categories with their needs in mind. And as with all our products, our soups and cereals feature wholesome grains, real nutrition and the delicious flavours of nature, free from artificial ingredients."