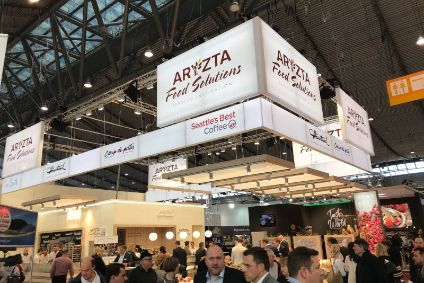 Under-pressure Swiss-Irish baking group ARYZTA has signed a number of bank deals as part of its plans to raise EUR800m (US$930.1m) in capital.
The company announced this morning it has entered into a standby volume underwriting deal with five banks ahead of plans to raise the cash needed to bolster its balance sheet.
Aryzta announced the plan to raise new capital last month as part of a wider turnaround plan following a series of profit warnings.
The underwriting banks are BofA Merrill Lynch and UBS, as process banks, and Credit Suisse, JP Morgan and HSBC Bank as joint global coordinators.
Aryzta, which makes buns for McDonald's burgers and Cuisine de France bread, said it has also received the consent of the requisite majority of its lenders to amend its existing facilities agreement to provide additional flexibility to pursue its new business strategy and implement a share capital increase as part of its deleveraging plan.
It added further details of the capital raising plan will be issued in due course but it is likely to take place before the end of the year.
Aryzta said last month the cash generation plan was the result of a "comprehensive review" of its operations and comes on the back of two earnings downgrades this year, one in May and the other in January. In May, Aryzta initiated a EUR200m, three-year cost reduction plan to restore "financial flexibility" and improve its asset and cost base.
A previously announced EUR1bn deleveraging plan involves at least EUR450m of asset disposals. In March, Aryzta announced it was selling its 50% stake in Signature Flatbreads.
Speaking about the capital raising plan last month, chief executive Kevin Toland said: "A significantly improved capital structure will provide Aryzta with the means to continue to take the necessary steps to re-position the business and deliver on our strategy."
Aryzta is due to announce its full-year 2018 results on 1 October.
Meanwhile, the company has also announced it has appointed three new non-executive directors as part of its plans for "refreshment and renewal" of its board.
They are Michael Andres, Gregory Flack and Tim Lodge.
Andres has spent the majority of his career with McDonald's having most recently served, up to 2017, as president of McDonald's USA, the company's largest global segment.
Flack is executive chairman of Green Chile Foods, a US frozen consumer foods company, a position he has held since 2014. He spent most of his previous career at frozen food business Schwan Food Company, where he served as CEO from 2008 until 2013.
Lodge is an experienced CFO who recently retired as CFO of COFCO International, where he helped combine two businesses into a global agribusiness with revenues of $34bn. He spent most of his previous career at Tate & Lyle, the UK-listed international food ingredients business.