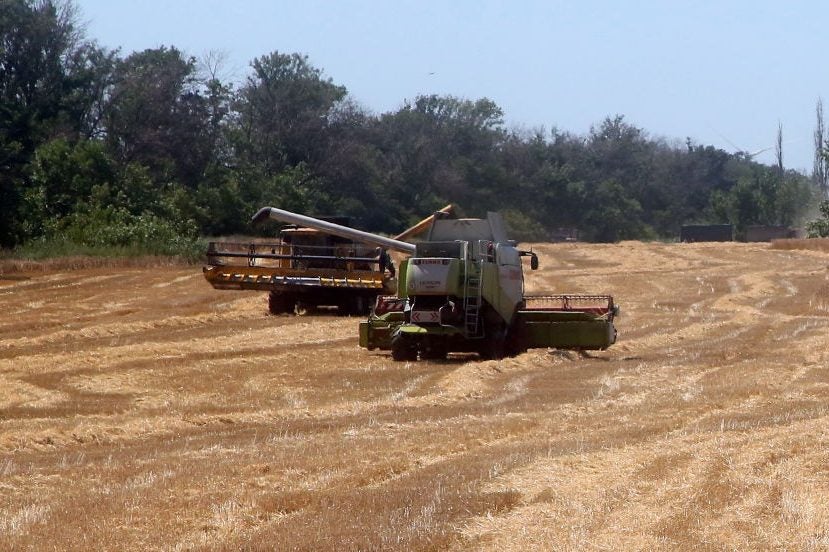 Poland, Slovakia and Hungary have vowed to maintain their ban on imports of grain from Ukraine despite the European Commission (EC) ending its support for the trade restrictions on Friday (15 September).
The countries said the ban needs to be maintained to protect their farmers from bulk imports of cheaper Ukrainian grain but the EC has suggested the measure is no longer necessary.
Ukraine is reported to be threatening to take legal action to end the ban.
Announcing the end of its support for the ban, Brussels said it had concluded "the market distortions in the five member states bordering Ukraine have disappeared".
It added Ukraine had agreed to introduce measures to avoid a renewed surge in EU imports.
"Ukraine has agreed to introduce any legal measures, including, for example, an export licensing system, within 30 days to avoid grain surges," it said.
"Until then, Ukraine is to put in place effective measures to control the export of four groups of goods in order to prevent any market distortions in the neighbouring member states.
"Ukraine will submit an action plan to the platform no later than close of business on Monday 18 September 2023."
Romania, which had previously banned Ukrainian imports, said it will wait for Ukraine to present its plan to prevent a surge today before deciding what action to take.
Bulgaria, the fifth country to impose a ban back in May, has voted to allow the resumption of Ukrainian grain imports, although Prime Minister Nikolai Denkov said the government would ask the EC to provide compensation for farmers.
Poland, Hungary and Slovakia are likely to face tough talks with the EU after unilaterally deciding to keep trade restrictions on wheat, corn, rapeseed and sunflower in place, a move that was predicted last week.
In a social media post on Saturday, Polish Prime Minister Mateusz Morawiecki said: "Poland will not allow Ukrainian grain to flood us. Whatever the decision of Brussels officials, we will not open our borders."
Germany, which borders Poland, has supported the EC's decision to end trade restrictions.
The Federal Minister of Food and Agriculture, Cem Özdemir, said: "It is a correct and important decision by the EU Commission to lift the ban on imports of Ukrainian grain. After all, we should refrain from anything that weakens Ukraine and strengthens Putin. Ukraine continues to need our help – for as long as it takes."
In a development today (18 September), specialist political news site Politico has reported Ukraine plans to sue Poland, Hungary and Slovakia over the bans.
It quoted Ukraine's Trade Representative Taras Kachka as saying yesterday: "It is important to prove that these actions are legally wrong. And that's why we will start legal proceedings tomorrow."
Politico said Kyiv plans to sue the countries at the World Trade Organization rather than via its own trade accord with the EU.
The row goes back to May when the five European Union members – backed by the EC – banned imports of grain and selected other foodstuffs from Ukraine to protect prices for domestic farmers. The EC extended the deal in June.
Ukraine has become even more dependent on alternative EU export routes, called Solidarity Lanes, for its grain exports since July when Russia tore up the agreement that had allowed Ukrainian grains to be shipped via its Black Sea ports.