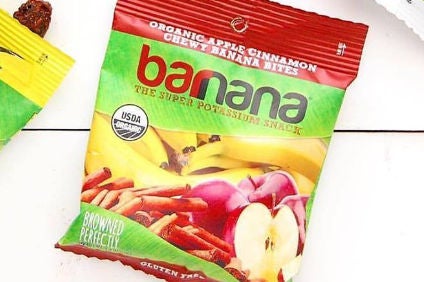 Barnana, the US business that makes snacks out of bananas deemed too imperfect to sell, has secured more investment.
The company has attracted the backing of Trently Advisors – which was the lead investor – as well as Blueberry Ventures, Boulder Food Group and Finn Capital Partners. Venture capital fund Boulder Food Group had also invested in Barnana two years ago.
Barnana said the latest round of financing had raised US$5.3m but the company did not disclose the individual amounts each investor had put into the business.
"Having investors on board who share in our brand vision is something that we cherish. With Trently Advisors and our other new and existing investors, we continue that legacy and strive for sustained excellence," Caue Suplicy, the CEO and one of three co-founders of Barnana, said. Suplicy, COO Matt Clifford and CMO Nik Ingersoll set up the business in 2012.
Barnana said between 2013 and 2016 it had seen compounded annual growth of 139%.
"Barnana's product line-up and company mission are squarely on-trend: delectable, convenient snacks that are healthy, functional and environmentally sustainable," Alan Leavitt, managing director of Trently Advisors, said. "Trently is very excited to partner with the management team as long-term investors. Caue, Matt, Nik and the team are well-positioned to expand brand presence, launch new and innovative products and take Barnana into additional markets."