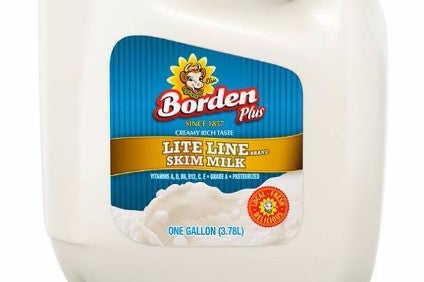 The bankrupt Borden Dairy Company is reportedly poised to be snapped up by US investment firms KKR and Capitol Peak Partners.
New Dairy Opco, described in a Bloomberg report covering the development as a "joint effort" between KKR and Capitol Peak, is awaiting the bankruptcy court's approval for the transaction, the price of which has not been disclosed, according to the news agency. Borden filed for Chapter 11 in January.
Quoting a source familiar with the proceedings, who was not authorised to comment publicly, Bloomberg said Capitol Peak Partners is leading the bid, adding the investor is led by Gregg Engles, a former CEO of Dean Foods, another US dairy major.
Dean Foods also filed for Chapter 11 in November last year, citing falling milk consumption and rising competition, and has since been broken up and sold off, mainly to US peer Dairy Farmers of America.
Bloomberg cited court papers as saying New Dairy Opco had won an auction for "substantially all" of Borden's assets. A hearing to approve the sale is scheduled for this Thursday (18 June).
KKR is reportedly a former investor in Borden and, according to court papers seen by Bloomberg, is a "high-ranking creditor in the bankruptcy case".
just-food approached both KKR and Capitol Peak Partners for confirmation. KRR declined to comment, while Capitol Peak has yet to respond.