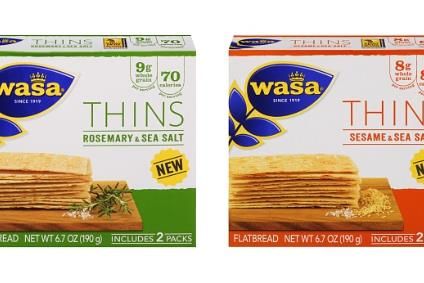 Barilla is expanding its Wasa crispbread brand in the US with the launch of Wasa Thins.
Announcing the launch, Barilla stressed that the Wasa Thins are made with "wholesome" and "nutritious" ingredients and a "clean label" that contains whole grains and no added sugar. The Thins are also free from cholesterol and artificial flavours.
A spokesperson for the company said the innovation came in response to growing demand for "thinner" crackers. "One growing snack trend this year is going thin," the spokesperson noted. "To meet this demand and keep our consumers top of mind, we developed Wasa Thins. Thins still have all the wholesome ingredients you will find in Crispbread, but have a lighter, crispy texture."
Barilla said the new product is a snacking option targeting consumers "on the go" to be "enjoyed straight from the box". The spokesperson explained: "We wanted to provide a smart snack that can easily be transported for on-the-go convenience and enjoyed straight out of the box. We also heard from our consumers that they wanted a snack cracker that satisfied hunger and their crunch cravings. Our long history in baking with whole grains has helped us develop this unique cracker that you can feel good about eating thanks to a one-of-a-kind taste that is surprisingly satisfying."
The Wasa Thins come in two flavours: sesame & sea salt and rosemary and sea salt. Wasa thins are available throughout the US for a suggested retail price of US$2.99.