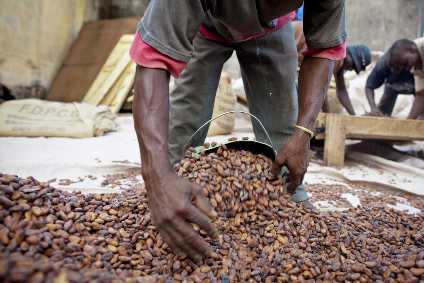 Chocolate manufacturer Barry Callebaut is joining the Netherlands' biggest retailer and an environmental group to ensure cocoa is sustainably sourced, with an ultimate goal to eliminate slave labour.
A strategic partnership has been formed between the Swiss company and Dutch retail chain Albert Heijn, with Tony's Chocolonely completing the line-up.
In a combined statement, the companies said they hope their new initiative will set an industry standard for global chocolate makers as the group aims to end child labour and "modern slavery" in cocoa-producing countries.
Tony's Chocolonely was founded in 2005 by three Dutch journalists after they found cocoa was being sourced from plantations that used child labour, and allegedly employed slavery. They set out to buy cocoa from farmers in Ghana and the Ivory Coast, paying a higher price and working with those partners to eradicate the bad practises. The chocolate brand is reportedly now the largest in the Netherlands.
Barry Callebaut has been a long-time manufacturer of chocolate for Albert Heijn – part of the European retail giant Ahold Delhaize – and Tony's Chocolonely. Barry Callebaut will now purchase its cocoa from the latter's sourcing network known as Tony's Open Chain. The platform includes tools such as Tony's Beantracker and the Child Labour Monitoring and Remediation System that has been implemented at all Tony's partner cooperatives.
Under the three-way partnership, Albert Heijn's private-label chocolate brand, Delicata, will now only use fully-traceable cocoa sourced from Tony's farms with the product due to hit shelves from March.
"Extreme poverty is the main cause of lasting social issues in the cocoa industry, issues which will only be resolved when companies go beyond certifications and are willing to pay a higher price than the certification premium," according to Tony's.
Antoine de Saint-Affrique, the chief executive of Barry Callebaut, said the company will look to build on the success of Tony's using its own "logistical expertise".
He commented: "This is a giant step for the chocolate industry, and an important move towards making sustainable chocolate the industry standard by 2025."