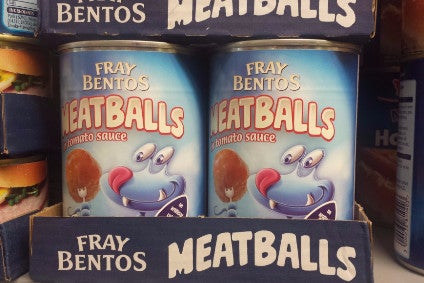 Baxters Food Group, the UK-based soups and condiments maker, is looking to make improvements across its manufacturing network in a bid to protect profits in a "volatile" market.
The owners of brands including Baxters and Fray Bentos is embarking on "a manufacturing transformation programme across its global operations".
Baxters said the project is "one of several new initiatives" that form part of the company's "strategic growth plan to ensure a sustainable future".
"In order to meet the challenging demands of a volatile retail trading market, Baxters Food Group plans to achieve a step change in profitability through operational transformation across all its production units, whilst developing optimum product and packaging capabilities," the privately-owned company said.
Baxters has confirmed 80 jobs are at risk at its site in the Scottish town of Fochabers as part of the restructuring. The company said it would enter consultation with affected employees at the plant over the moves, which it said could impact up to 80 roles over two years. The site employs up to 700 employees.
Audrey Baxter, the group's executive chairman and CEO, said: "We need to improve the performance of our European business by developing more efficient production units and improving market share of our products. We must respond to ongoing external challenges such as difficult trading conditions, squeeze on margins, food deflation, aggressive promotional activity and overall category decline reflecting change in consumer tastes.
"In order to do this we will invest and improve the skills of our people and apply good manufacturing and commercial practices to maximise our efficiencies to maintain our position as a world leading manufacturer of premium products."
In March, Baxters released its accounts for the year to 30 May 2015 to Companies House. Baxters reported a 40% rise in sales in the period to GBP226.3m (US$329.3m) thanks to the acquisition of US group The Wornick Co. – but underlying sales were down.
Baxters' pre-tax profits were GBP157,000, up from GBP146,000 a year earlier.
A higher tax bill meant Baxters made a net loss of GBP379,000, compared to a profit of GBP23,000 a year before.
In her statement outlining the planned changes at the company, Ms Baxter said turnover for the year to the end of this March was "significantly ahead" of the previous 12 months thanks to the acquisition of Wornick. She said sales had risen by "around 60%".