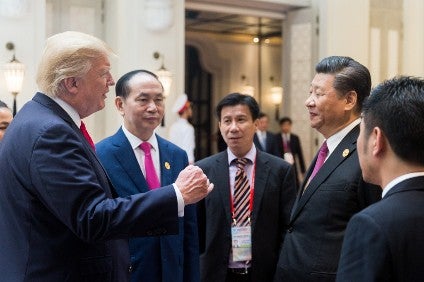 The trade row between the US and China has intensified in the last 24 hours with both countries issuing details on further tariffs and with the food industry again caught in the crossfire.
Yesterday in the US, Washington listed the items from China it proposes will be hit with an additional duty of 25%, a move the Trump administration had indicated before Easter was on the cards. The lengthy list included machinery and parts used by the food and drinks industry in the US.
Within hours, Beijing hit back, announcing its own plans to levy a 25% tariff on US imports that included beef, soybeans and whiskey.
The latest, proposed measures signal a potential step up in the tension between the US and China on trade. They come in the wake of a spat over Chinese steel and aluminium, which led to Beijing impose tariffs on 128 different US products including pork and certain fruits.
Washington's announcement yesterday covered what it said was US$50bn worth of Chinese imports.
"The US Trade Representative has determined that the acts, policies, and practices of the Government of China related to technology transfer, intellectual property, and innovation covered in the investigation are unreasonable or discriminatory and burden or restrict US commerce," a statement from the Office of the United States Trade Representative (USTR) read.
Listing the products from China on which the US proposes levying a 25% tariff, the USTR added it is "seeking public comment and will hold a public
hearing regarding a proposed determination on appropriate action in response to these acts, policies, and practices".
In Beijing today, Zhu Guangyao, China's deputy finance minister, told reporters the country's government did not want a trade war with the US, insisting it would be a "lose-lose" for both markets.
However, he was quoted by CNBC as adding: "We must take some retaliation when people damage our interests."
Canada's food industry will be watching the situation closely. A translated version of the list of goods Beijing has issued is entitled "list of tariffs on the United States and Canada"